Diwali cracker ban: SC refuses to modify ruling,'anguished over communal angle'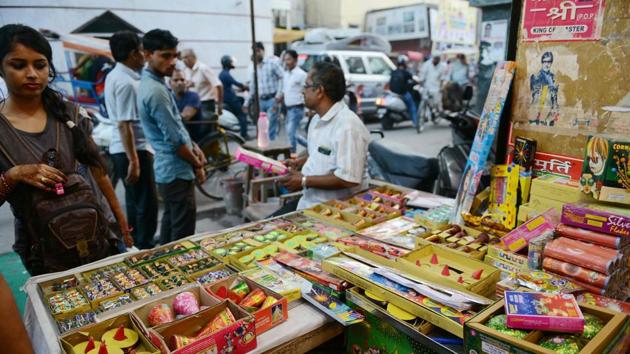 Updated on Oct 13, 2017 11:22 PM IST
The Supreme Court refused on Friday to modify its order banning firecracker sales in Delhi-NCR, saying it was anguished at people giving the ruling a communal angle.
On Monday, the SC reinstated its ban on the sale of firecrackers in and around New Delhi ahead of Diwali, a preemptive step aimed at preventing a toxic haze from engulfing the region like last year.
"We are pained to hear when people give a communal angle. Everybody knows I am a very spiritual person but this is something different," said justice AK Sikri who heads the bench that issued the order. The other judge is Ashok Bhushan.
The court was hearing applications filed by traders who said the order barring sale of crackers till November 1 had hurt their business. They said huge amounts of money were invested in the purchase of crackers post after the September order. However, the latest order has caused them severe financial loss.
Both judges said they welcomed criticism of their order since people have a right to express. But to give it a communal angle was anguishing. Also, there was not a ban on bursting crackers nor has the court disallowed anyone from celebrating the festival.
"The matter is still pending. This is an experiment which we want to try for this year. We will take a stock of the situation," the court said, refusing to get drawn into the argument that culturally crackers were an integral part of Diwali celebrations in India.
"Our order was not influenced with history nor do we want to get into that debate."
At one point the court was keen to clarify that crackers can be burnt till 11 pm only.
However, it did not do so when the counsel for the three toddlers who asked for a modification of the September 12 order impressed upon it from doing so.
An acrid smog forced authorities to close schools and ban construction activities after Diwali last November. The city of more than 20 million people struggled with its worst air pollution for two decades, shrouded in smoke from millions of fireworks lit during the festival, burning of crop residue in neighbouring states before winter, vehicle exhaust and construction dust.
The court then banned the sale of firecrackers, but relaxed the restrictions on September 12 this year after a plea from fireworks manufacturers. The court said a complete ban would be a "radical step".
Close Story
Personalise your news feed. Follow trending topics