SDMC to build wall along drain in Taimoor Nagar
The civic body claims that regular desilting has little impact on this drain as residents from the neighbouring areas throw garbage and construction waste in it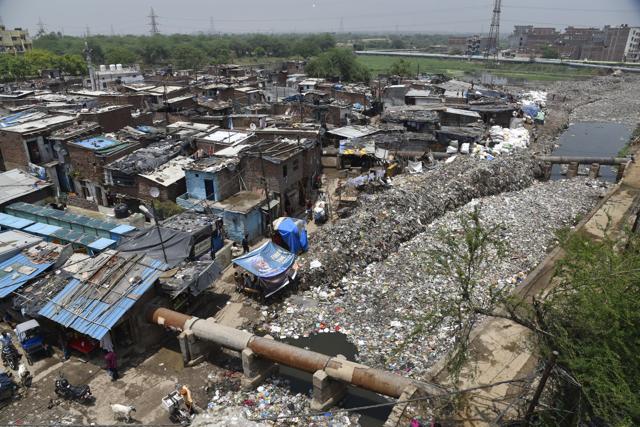 Updated on Jun 06, 2016 06:23 PM IST
To prevent people from dumping waste into Taimoor Nagar drain, the South Delhi Municipal Corporation (SDMC) has planned to raise a boundary wall parallel to it. It proposes to construct a 5 foot-high wall with 3 foot-high fencing. SDMC claimed that despite regular desilting of the drain, the situation goes to square one as residents of neighbouring areas throw garbage and construction waste in it. This slows down or stops the flow of water and the stagnated water emanates a foul smell.
The agency said there was a boundary wall along the nullah but locals have breached it. A senior SDMC official said, "We had planned to construct the wall three months ago, but the project was delayed due to paucity of funds. Now, an estimate has been prepared and sent to the ward committee for approval."
The official said SDMC carried desilting work just 15 days ago. But at present, heaps of debris can be seen dumped on both sides of the nullah.
New Friends Colony (NFC) residents have repeatedly complaints about the unhygienic condition around the drain. They recently spoke to SDMC officials and MLA Amanatullah Khan. "Mona Srineewas, deputy commissioner, SDMC central zone, also visited recently. She promised immediate action," said Chitra S Jain, a member of New Friends Colony RWA.
Residents also said that there is only one bin in the area and said it is not enough considering the requirement. Garbage can be seen scattered around the overflowing dustbin.
NFC residents have also been requesting authorities for the widening of the road running parallel to the drain. "The road is encroached, diverted towards Gurudwara Road and ends near Taimoor Nagar village. We want authorities to expand the road till Khizrabad and other neighbouring areas for ease of access," said Rohit Kumar, another member of NFC RWA. At present, those travelling towards Khizrabad and Zakir Nagar take Gurudwara Road, the excess of traffic movement leads to jams on this road.
"We spoke to the MLA. He promised to discuss the matter with government agencies. But we have not yet received any feedback," said Jain. Khan could not be reached for comment.
Close Story
Personalise your news feed. Follow trending topics