Currency ban: Sex workers at Delhi's GB Road fear losing all savings
Updated on Nov 20, 2016 06:42 PM IST
Demonetisation has badly affected the business at GB road. According to an estimate, about 80% of the 5,000 sex workers have no work.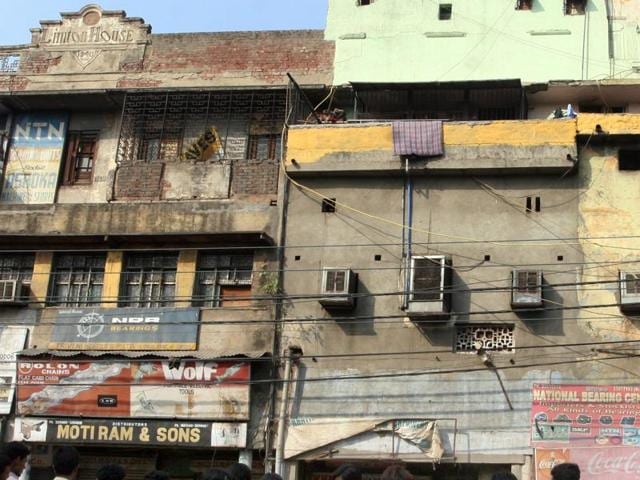 It was around 8:30pm and Seema, 34, was waiting for customers in the corridors of GB Road, Delhi's red light area, on the night of November 8.
Her smartphone buzzed. It was a message from a fellow sex worker that read, "Rs 1000 and Rs 500 notes banned. Don't take."
"Initially, I was confused what it actually meant but soon the message spread across the brothels that government has banned Rs 500 and Rs 1,000 notes. My life changed for the worse after that. I used to handle four customers in a night. Now, I sit idle most part of the day," she said.
Demonetisation has badly affected the business at GB road. According to an estimate, about 80% of the 5,000 sex workers have no work. Many have gone to their native village. Customers often give banned currency to sex workers and few even throw old notes during dance performances in those brothels where mujra (dancing) is performed. There are three such brothels on GB road.
Read: At queues outside Delhi banks people share, collaborate, socialise
Rekha, who was brought to GB Road by a pimp from Kathmandu on the promise of a job 15 years ago, said, "Never have the kothas been so empty. Most of the girls have left for their villages or homes. There is no business. Whoever comes, offers old notes," she said.
Seema lives with 35 other girls in the brothel. As many as 20 have gone home to their in villages in Andhra Pradesh, Bengal, Uttar Pradesh and Bihar.
Another woman who has been in the brothel for the last 35 years said the owner earned Rs 35,000 a day but now the income has come down to less than Rs 5,000 due to the shortage of 'cash in hand'.
"A worker who charged around Rs 400 earlier will now accept anywhere between Rs 100 and Rs 200," she said. The younger girls who charged a higher rate have decreased it by half.
"A sex worker charging Rs 700 will now charge less than Rs 300," she said.
Just 800 out of the estimated 5,000 sex workers on GB Road have bank accounts. Others deposit money in the accounts of other sex workers or have gone home so that they could get the money changed. Many are also dealing with the middlemen or pimps to get the money changed. But there is risk of losing their hard earned money.
Those in the queue to change the money are facing problem with people taunting them.
"On Sunday, when I stood in a queue at Syndicate bank, a man said GB Road wale bhi aa gaye paisa jama karne (now even sex-workers will deposit their money). There should be separate banks for us," said Vandana, who had saved around Rs 8,000 in cash for sending it to her two children who study at a boarding school in Allahabad.
Vandana came to GB Road from a village in Chittoor district in Andhra Pradesh. The brothel owner pays her around Rs 10,000 every month and charges 50% of her earnings as his commission.
Read: Delhi traffic cops issue fewer challans as commuters low on cash
"We have to pay around half of our earnings to the brothel owner. He too is not accepting old notes. He said if you pay me old notes you will have to pay Rs 1,200 for Rs 1,000."
Reena, who was listening to the conversation interrupts, "This will make things worse. Bankers would identify us and will start asking for sexual favours."
Lack of information has also led to fear. Karishma, who has been living in the red light area for the past six years, said, "Is the government also planning to conduct raids on people who have more than 2.5 lakh in their account. We will be left with nothing if this happens. I have two children who are studying. I don't want them to enter this profession."
The experts, however, feel that demonetisation is the best way to curb trafficking. Nobel Laureate Kailash Satyarthi had recently commended the step. "It is a lesser known fact that human trafficking and child labour are amongst the largest sources of black money. I have come across innumerable incidents where the agent or middle man earned at least Rs 5000 for the placement of young boys in bonded labour and in cases of girls sold for prostitution and child marriages, this amount was around Rs 2 lakh. Every single rupee earned by the traffickers and slave masters is black money. This move will break their backbone," he had said.
According to a study conducted by Global March against Child Labour, Rs 21 lakh crore are generated by enslaving young girls in brothels.
(Names of the sex workers have been changed)