Steamer service to revive navigation in Agra Canal after 143 years
Feb 01, 2017 07:52 AM IST
Delhi may join the elite club of cities with water taxi services by June end as the Centre's Yamuna Water Taxi project to ferry tourists and public from Palla (Delhi-Haryana border) to Wazirabad is moving as per schedule.
Successful implementation of water taxi project on Yamuna in Delhi will pave way for the revival of navigation in the 143-year-old Agra Canal stretching from Okhla to Agra.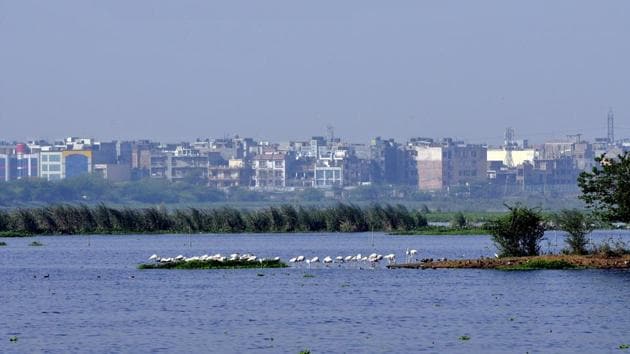 Two years ago, road transport and highway minister Nitin Gadkari ordered a study to check feasibility of waterway between the two cities.
An IWAI official said that an assessment is being done and the project may take time to materialise.
"The water taxi project is being seen as a pilot project. Based on the response, further course of action will be decided. The problem with steamer service between Delhi and Agra is non-availability of adequate water in the canal. It is also being assessed whether this plan will be viable in terms of investment and travellers will give preference to waterway route, while the Yamuna expressway is more convenient and time saving," said an official from Inland Waterways Authority of India.
Read | Delhi: Yamuna will be dredged for water taxi service, debris to be used to construct roads
A Netherlands-based agency was roped in to work out a technical report on developing infrastructure on Yamuna to facilitate goods and passenger traffic. "At present, initiation of cargo service on this route does not seem practical," he said.
However, low water level in Yamuna poses a bigger challenge for the government. There are stretches from Delhi to Agra that remain dry during the summer. The study was also ordered to find out solution for retaining water on those stretches round the year.
Meanwhile, water conservationist Rajendra Singh lauded the proposal but said that authorities must find out a solution to maintain water level required for ferrying steamers.
Read | Delhi: Yamuna will be dredged for water taxi service, debris to be used to construct roads
"Principally, there is no harm if the rivers are used for transportation. But, they should ensure adequate flow of the river. However, it seems their plan is not to restore the river but to get monetary advantages out of it. They will prevent water by constructing more barrages," Singh said.
Environmentalist Manoj Misra said that Delhi government is trying to replicate the British model, which has been a failure in India. "The British planned the Agra Canal primarily for irrigation based on a concept from the West, where availability of water in the river was not an issue, but realised their folly soon after. Surprisingly our government wants to revisit their folly. The fact is that the river has no water," Misra said.