Lost a kin on Delhi Metro? This woman constable will help reunite you with your loved ones
Updated on Jul 19, 2017 07:51 AM IST
Noorjahan Khatun has reunited women, senior citizens and children with their families in over 100 cases where they had been separated in the Metro.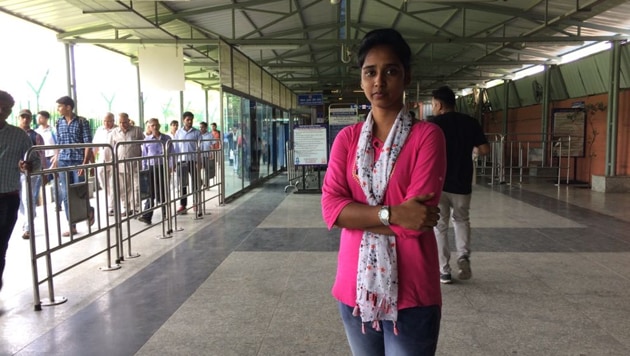 Last December 25, a woman from West Bengal was found crying at New Delhi Metro station. She had been separated from her husband while boarding a train and knew neither English nor Hindi, not even her husband's phone number.
That's when Noorjahan Khatun was called in. The 27-year-old CISF constable immediately took the woman and started probing.
"The woman did not remember the phone number of her husband but knew the name of the hotel where they were staying. I called the hotel and got her husband's mobile number. He was located and both were reunited," Khatun said.
Pickpockets in Delhi Metro: Here is how they do it, and how to spot them
Posted in the intelligence wing, she is the most sought after cop when it comes to reuniting lost people in the Metro and has solved over 100 cases.
"In December 2015, a man came crying and I was called by the station staff. His 71-year-old mother had boarded the Metro but had not reached home for two days. I checked the CCTV footage and through her movement, we traced her to an old age home in Faridabad. It gave me a lot of satisfaction," she said.
Khatun had joined the CISF in 2008 and was posted with the Delhi Metro since 2011. For her unrelenting efforts, she has received the employee of the year award.
With 28 lakh passengers travelling in the Metro daily and 20% of them being first-timers, on an average the CISF gets two cases of people lost every day. While CISF is tasked with Metro security, such cases are taken up on priority as a minute's delay can hamper investigation.
Peacocks to tech: Theme-based artwork to decorate walls of Metro's upcoming Magenta line
An official said that most of such passengers get separated due to automatic doors and crowded stations. Last year alone, over 100 kids were reunited with their parents.
"Whenever we receive a case of a missing person, we advise our staff to call Khatun. She never disappoints us and she likes her job," a senior CISF official said, adding that she has also solved cases of pick-pocketing and theft.
The most recent case that Khatun solved was on July 9, when at Chandni Chowk station, a CISF CCTV observer noticed an old woman passenger roaming alone at the platform for a long time.
Khatun was called, and the woman told her that she had got separated from her son-in-law at the station. An announcement was made at station level and nearby stations and soon the man was traced and reunited with his mother-in-law.
"In 2016, we reunited 106 children while this year till June, 60 children have been reunited with their parents. Apart from this over 100 adults were also reunited. We have trained our staff to identify people roaming alone. It is a misconception that only children are vulnerable. In metro many first timers from other states come and often get separated," the CISF official said.
Personalise your news feed. Follow trending topics