AAP's Alka Lamba accuses BJP of trying to poach MLAs, gets into Twitter war with Shazia Ilmi
Updated on May 01, 2017 09:09 AM IST
AAP MLA Alka Lamba claimed that BJP leaders are trying to wean off AAP MLAs. She claimed she had received such a call from a BJP leader and said she would later release the recording.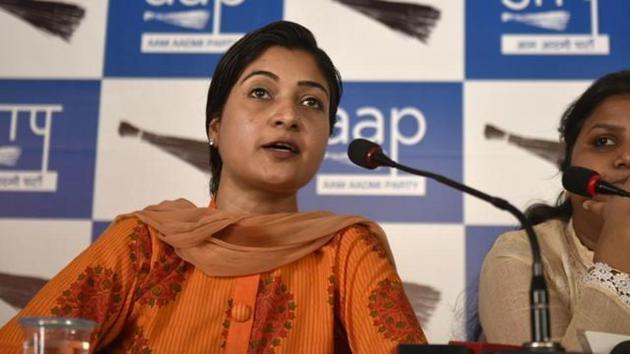 Chandni Chowk MLA Alka Lamba has alleged that BJP leaders are calling Aam Aadmi Party legislators and luring them to switch sides by offering ticket in the Lok Sabha elections or coveted government posts.
In a series of tweets, the AAP legislator claimed that she, too, received a call from a BJP leader. Though she did not name the BJP leader, Lamba said she will make the phone recording public at an opportune time.
"The BJP leader who called cited example of Shazia Ilmi (former AAP leader who joined BJP ahead of 2015 assembly elections) saying that she is earning Rs 5 lakh after getting a government post. You should also think," Lamba said in one of her tweets.
The mention of her name in the tweets irked Ilmi who got into a war of words with Lamba. Ilmi reminded Lamba over the previous association with the Congress before joining AAP.
Tweets of Lamba on the issue was also retweeted by chief minister Arvind Kejriwal.
Speaking at a press conference at party office, AAP (Delhi) convener Dilip Pandey said party legislator from Jangpura, Praveen Deshmukh, has also been approached by the BJP leaders.
"It's a well known fact that the BJP has been using such tactics in other states as well to form government…But would like to make it clear to the BJP that its dirty tactics would not bear fruits as our legislators are out to put in place an alternative polity in the country," Pandey said.
Meanwhile, Delhi BJP spokesperson Naveen Kumar denied the charges.
"I haven't seen the tweets yet. But this is the outcome of their personal rivalry. On the question of AAP leaders being lured by offering money, I would say this has been the culture of AAP and Congress. The BJP never invites leaders of other parties to join and it will never do in future. This shows AAP's frustration. Why don't they wait for another day? The results will be out on April 26, which will make things clear," Kumar said.
On March 28, AAP legislator from Bawana, Ved Parkash had quit Delhi assembly and the party to join the BJP.