Amity University student from Telangana commits suicide in hostel room
Nov 06, 2016 12:31 AM IST
A 21-year-old student of the Amity University allegedly committed suicide by hanging himself at his hostel room, the police said on Saturday.
A 21 year old Amity University student, G Saikrishna, allegedly committed suicide in his hostel room on Friday afternoon when he was alone during the Diwali vacation.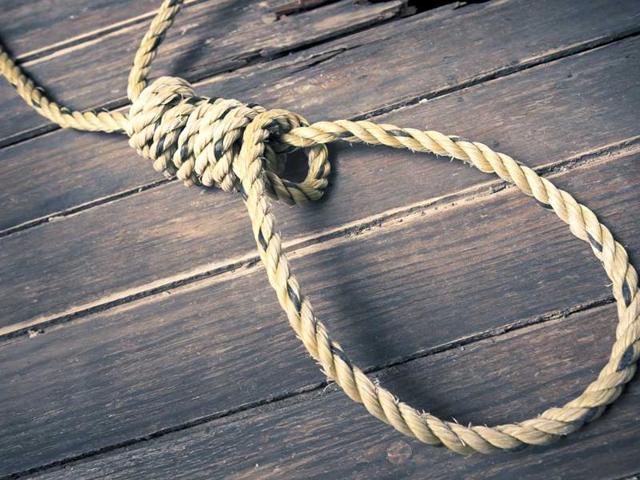 Saikrishna, a first year post graduate diploma student of facilities management committed suicide at 2.30pm on Friday by hanging himself from the ceiling fan of his hostel room. He used his bed sheet for the purpose.
He was rushed to Kailash hospital by the university authorities, where he was declared brought dead by the doctors. The body was then sent to the police for post-mortem and later given to the parents of Saikrishna, who arrived from Telangana on Saturday.
According to the police, Saikrishna, a native of Telangana, left a suicide note in Telugu, in which he thanked his parents for the support they gave him.
"He said that despite suicide being an extremely harsh step, he is taking this decision but he did not blame anybody for the act. Rather he thanked his parents for the support they have given him over the years. He also asked them to take care of his younger sister," said Amarnath Yadav, station house officer, sector 39.
According to Amity management, Saikrishna was alone in his room for the week as his roommates had left for the long Diwali vacation. The suicide sent shockwaves in the first year batch of facilities management and his friends remembered him as cheerful and jovial person.
"The college was supposed to resume from Monday and Saikrishna was alone in his room. He was a bright student with good academic records. We are shocked and saddened by this loss and at this moment, we are with the family of Saikrishna," said Savita Mehta.
After the post-mortem of body, Saikrishna's parents cremated him in Delhi. Amity University will hold a condolence meet on Monday.
Shy, jovial and studious : Friends and Family recall Sai
Till 2'o clock, Sai was chit chatting with his hostel friends in their room. As his friends decided to head towards the mess for lunch, Sai told them that he needs to go to his room for ten minutes and he will join them in the mess.
Post twenty minutes, when Sai did not turn up at the mess, his friends went to check on him and found him hanging from the ceiling fan. Gandra Sai Krishna had used his bed-sheet to turn it into a rope and hanged himself.
In a note written in Telugu for his parents, Sai said, "They say suicide is an act of cowardice. Yet I am taking this step. Please take care of my younger sister."
He used to live in a 'non AC' hostel room with two roommates who had gone for the week long Diwali vacation. Since last Friday, Sai was alone in his room.
His suicide sent shockwaves across the University especially after a 3rd year Law student of Amity Law School Delhi Sushant Rohilla committed suicide in August this year after allegedly being harassed by his faculty.
A native of Khammam district in Telangana, Sai's father G Deendayal Reddy is an advocate and the family hails from a middle class background.
Sai had shifted to Noida four months back when he decided to pursue diploma in facilities management from Amity University. This was the first time Sai had moved out of his state to pursue higher education.
"It had hardly been four months since Sai shifted to Noida. His teachers were impressed by his performance in class," said Savita Mehta, spokesperson, Amity University.
A graduate in B.Tech Mechanical Engineering from Sai Spurthi Institute of Technology, Sai had pursued the course in Khammam itself.
Described as a shy, introvert yet jovial person, Sai was one among 40 odd students in the 'non AC' hostel of Amity University.
His hostel friends say that Sai did not give them any hint even ten minutes before his death.
"Everything happened so quickly that we were left stunned. Ten minutes ago, he was chit chatting with us and then he suddenly left for his room. He gave no hints," says a friend of Sai on condition of anonymity.
However, Sai did drop a hint. On Thursday night, he called up each and every member of his family and spoke to them at great length. His cousin Sudhakar recalls that night.
"It was unusual for us. It was like Sai was holding a directory in hand and calling up all his near and dear ones. He spoke to all of us in a jovial manner, inquiring about our lives. He did not seem depressed from his tone but yes, he was preparing himself," said Sudhakar.
His suicide has left his parents shell shocked as they have no idea why their son took this extreme step.
"Whenever his parents were called for a meeting with school or college authorities, the teachers always had high praises for him. We received excellent feedback every time. We don't even know why he took this step" said Sudhakar.
Sai's parents reached Delhi on Saturday morning and they will be heading towards Kammam for cremation.