Burning garbage may now attract Rs 1 lakh fine
Published on Jan 13, 2016 12:44 AM IST
Burning garbage or leaves, one of the key causes of air pollution in the city, may now attract a fine of up to Rs 1 lakh.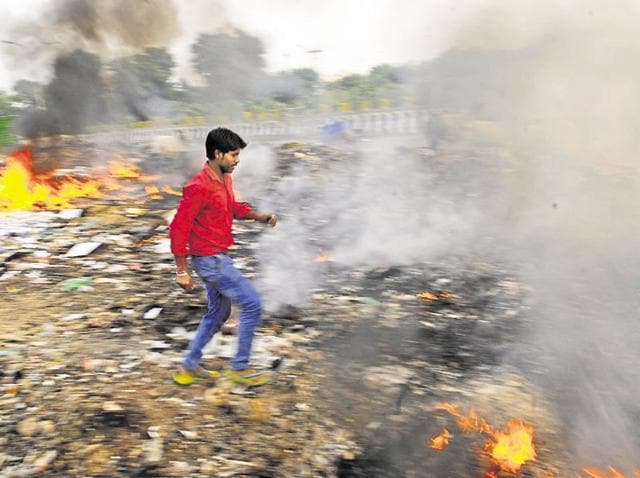 Hindustan Times |
, New Delhi
Mohit Sharma
Burning garbage or leaves, one of the key causes of air pollution in the city, may now attract a fine of up to Rs 1 lakh.
The municipal corporations have decided to impose the maximum amount of fine stipulated by the National Green Tribunal to curb the rampant practice of garbage and green waste burning in the city.
However, experts and even some officials said enforcing such a hefty penalty was not practical.
As per a notice, the east and south Delhi corporations East and South said they would now levy a fine of Rs 20,000-Rs 1 lakh, depending upon the circumstances.
But officials pointed out that it may not have the desired effect since most of the garbage or leaf burning takes place after sunset, specially during winters. "The municipal corporations do not have the authority to issue challans after sundown," an official said.
"Also, majority of those who indulge in such practices in winters are those who don't have an alternative method to keep themselves warm and they can't even pay the lowest fine amount, which is Rs 20,000," the official added.
"Even if the corporation fines a person Rs 1 lakh, how does it expect a person living on the roadside to pay such a hefty sum?" asked another official.
Senior officials in east corporation, however, justified the move. They said the notice had been issued as per the recommendations of the green tribunal and the fines would be imposed accordingly.
"Our focus will be on those who burn garbage in large quantity and cause damage to environment. Factories, or garbage collectors and households will be on our watch list," said the official.
While imposing a complete ban on burning of waste in the open, including garbage, leaves, plastic and crop residues in April 2015, the National Green Tribunalhad also asking the civic authorities and state governments of Delhi, Haryana, Rajasthan and Uttar Pradesh to "immediately" spread mass awareness regarding ill-effects of burning waste materials in open areas.
"It is on record before us that burning of garbage and other materials is not only source of air pollution but forms 29.4% of air pollution with reference to PM10," the NGThad said in its order.
Personalise your news feed. Follow trending topics