Chikungunya cases down in Delhi, dengue still going strong
The new cases took the total number of chikungunya cases to 8,720 and dengue to 3,650 this year.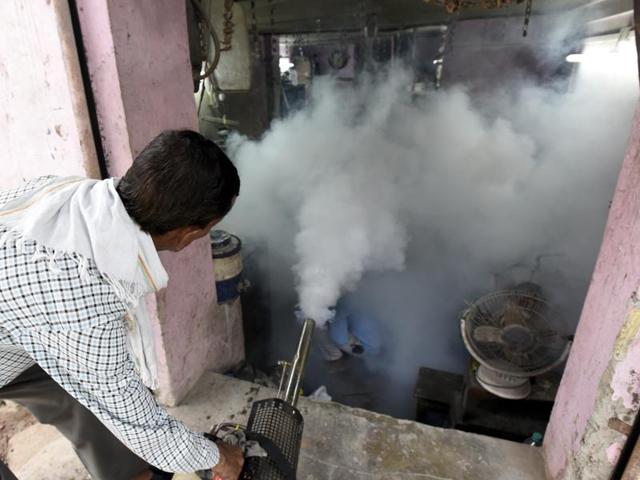 Updated on Oct 31, 2016 08:29 PM IST
The South Municipal Corporation of Delhi (SDMC) on Monday confirmed 571 new cases of chikungunya and 317 cases of dengue for the week that ended on October 29, down from 713 and 324 cases, respectively, the previous week.
SDMC is the nodal civic body that collates the data on the vector-borne diseases for all three corporations.
The new cases took the total number of chikungunya cases to 8,720 and dengue to 3,650 this year.
The corporation has reported four deaths due to dengue and none due to chikungunya to date. Hindustan Times has independently confirmed 20 chikungunya-related deaths and 25 dengue deaths.
"I have not seen any chikungunya patients in the last two weeks but, in the last two days I received three patients with dengue, who required admission. This was not expected as I have been receiving maybe one case every two days. But, the numbers have definitely gone down and these are the last few cases of this season," said Dr Suranjit Chatterjee, senior consultant of internal medicine at Indraprastha Apollo.
Read: First made-in-India dengue vaccine candidate protects against all 4 strains
At Moolchand hospital, Dr Srikant Sharma, a senior consulting physician has been receiving cases of dengue and chikungunya both. "The numbers have gone down a lot – at least 80% since the peak in September-end," he said.
Both the mosquito-borne diseases peaked and subsided earlier than usual this year. "Usually, dengue cases peak during October and go down in November, but this year, we saw a decline in the numbers earlier than usual, in the beginning of October itself," said a Delhi government health official.
A total of 14,889 cases of dengue were reported by the corporation during the same period last year, when Delhi saw its worst dengue outbreak that affected almost 16,000 people and killed 60.
"This year, the rains stopped abruptly, which led to shrinking of breeding grounds for mosquitoes. This coupled with intensive mosquito breeding-control measures and fogging conducted by the corporations and the Delhi government brought an early end to the diseases," said a municipal health official.
Close Story
Personalise your news feed. Follow trending topics