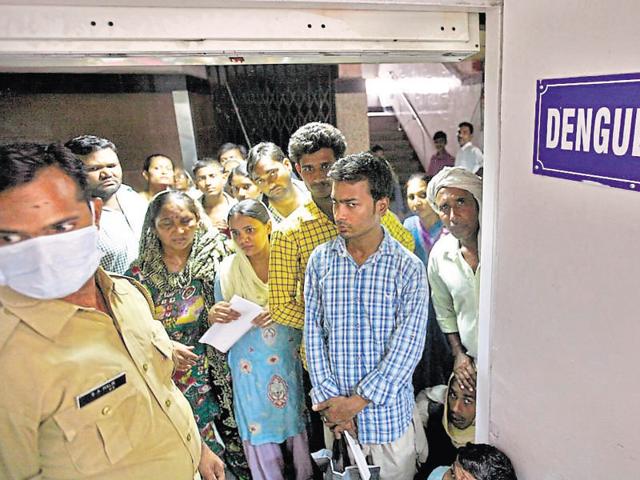 Delhi: 176 new dengue cases in a week, total up to 487 this year
Delhi reported 176 fresh cases of dengue in a week (till Saturday), taking the total to 487.
PUBLISHED ON AUG 29, 2016 10:52 PM IST
Delhi reported 176 fresh cases of dengue in a week (till Saturday), taking the total to 487.
As many as 831 cases were reported during the same period in 2015 -- the worst outbreak year in Delhi with 16,000 cases and 60 deaths.
In a report released on Monday, the municipal corporations also confirmed 412 cases of chikungunya.
Of the 487 cases, 368 were reported in August. Last year, there was a sudden spike in the number of cases from 36 in July, to 778 in August.
This year, a disproportionately high number of people affected by dengue have been pouring into Delhi for treatment. Of the 487 cases, 285 are from Delhi and 202 from neighbouring states. Last year's data shows that only 71 of the 831 cases reported were from outside Delhi.
The report show that the number of deaths remained the same as the previous week – two. However, the Hindustan Times independently confirmed five dengue deaths. The latest case was that of an 18-year-old from Shaheen Bagh, Okhla, on Sunday at Indraprastha Apollo Hospital. "He passed away due to dengue shock syndrome," the hospital confirmed.
The death of a 17-year-old girl from Jafrabad, who, according to her death certificate, died of "dengue shock syndrome" at Lok Nayak hospital on July 21, and a 38-year-old woman, who died of cardiac arrest and multi-organ failure as a result of dengue haemorrhagic fever at Apollo hospital on August 12, were reported by the HT.
The disease usually peaks around the month of October, and doctors are expecting more cases in the next couple of months.
The strain circulating this year is Type 3, which is a milder strain that largely does not cause severe symptoms.
Doctors have advised people to keep themselves adequately hydrated and not resort to self-medication, and also to go for blood test before rushing to get admitted in hospital.
"Only in severe cases should they go for hospitalisation," said Dr K K Aggarwal, secretary general, Indian Medical Association.
"Also, it is extremely important to note that platelet transfusion is only needed in dengue cases where the platelet count is less than 10,000 and there is active bleeding," he said.
"Unnecessary platelet count can cause more harm than good. Adequate hydration is the best management approach to dengue while monitoring crucial signs," Dr Aggarwal added.
Close