Delhi govt will buy electric buses to counter pollution
Published on May 09, 2016 10:03 PM IST
The electric buses will be air-conditioned with WiFi and CCTV cameras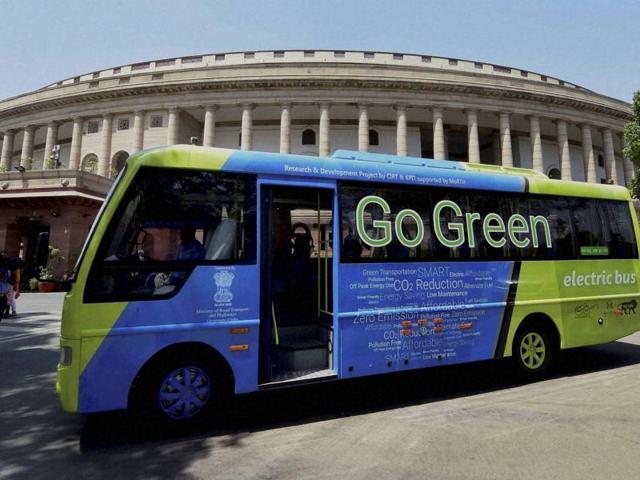 The Delhi government has decided to introduce electric buses in the city in what it said was an attempt to strengthen public transport and fight pollution.
To start with, Delhi Transport Corporation (DTC) will run 25 such buses that are likely to be procured by July. Delhi requires at least 10,000 more buses to meet the demand and discourage commuters from using private vehicles.
The electric buses will be air-conditioned with WiFi and CCTV cameras. If the pilot-run works out, the government plans to get more such buses though the number hasn't been decided yet.
DTC spokesperson RS Minhas said: "The proposal was discussed in the board meeting after we noticed the performance of one such bus we are running on different routes across the city. It is running for over 250 km in one charge, which is sufficient."
Sources said the DTC wanted 100 buses for the pilot run but the government asked us to buy 25 as one bus would cost at least a `1 crore. A proposal has been sent to the cabinet and after the approval, tenders will be floated.
Such buses are already running successfully in Los Angeles (USA) and Shenzhen (China) with trials going on in cities such as London and Jakarta.
"For sustainable transport system, electric buses are important. Every country is shifting to electric buses and Delhi should follow," said PK Sarkar, head of department (transport and planning) at School of Planning and Architecture.
Also read: App-based bus services to start in Delhi from mid-June
The government is working on getting 3,000 more buses -- 1,000 each in premium, cluster and semi-low floor categories. Though these buses had to be rolled out from this month, the plan will materialise by the year-end.
Sources say bidders haven't shown interest in the project and the government has announced a bus aggregator policy to be able to introduce premium buses targeted at drawing car users to public transport. Currently, 5,200 DTC and cluster buses ply on Delhi roads.
According to a government official, the electric bus has lower maintenance cost compared to CNG or a diesel bus and has CCTV cameras and medical kits installed in it. An electric bus can run 280-km per charge. To assist the disabled, the bus can be tilted if needed and there is a hammer at every seat for emergency.
This electric bus is fitted with a fire safe battery. It will not explode when exposed to direct flames. Its energy consumption amounts to 1.3 KWh/KM, estimated at `12.06 /km. After 15 years of use, the battery capacity is projected to remain about 70%. The bus has a seating capacity of 31.
In Delhi, Smart Group, under their e-Vehicle manufacturing project, has introduced one bus in collaboration with the government, which has been running in Delhi since March.The bus is earning `8,000 per day on an average by running about 250 km in one charge. DTC has so far put it on five different routes.
Personalise your news feed. Follow trending topics