All safe after Delhi Metro coach catches fire in Patel Nagar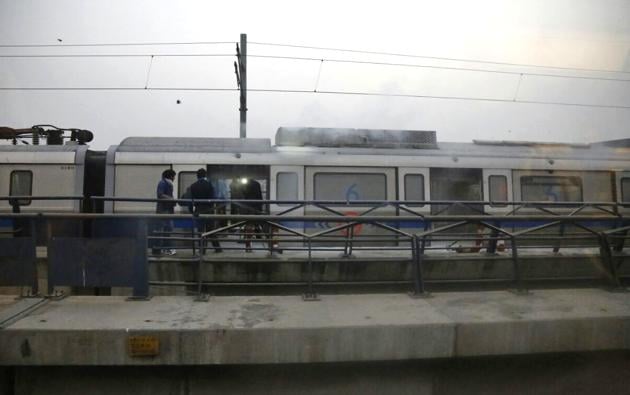 Updated on Dec 08, 2016 10:10 PM IST
New Delhi
A coach of the Delhi Metro caught fire at Patel Nagar station on Thursday afternoon, triggering panic among passengers on the busy Blue Line.
The train was on its way to Vaishali when the minor fire broke out. No one was injured in the incident.
Smoke was seen coming out from the AC vent on top of a compartment of a six-coach train around 4 pm, just before evening rush hour. Passengers at the platform spotted the smoke in the train's last coach and immediately informed metro officials. All the passengers were later evacuated at Rajendra Place metro station.
Rajeev Ranjan, who was about to board the same train at Patel Nagar station told HT that initially it started with minor sparks seen from top of the coach.
"Within a minute, there was smoke and people panicked. Services were affected for at least 15-20 minutes," he said. Due to delay in services, several passengers also sought refund of their tokens.
Thursday was the first time that an operational train in the Delhi metro had caught fire, which was later doused by the fire services. The Delhi Metro Rail Corporation (DMRC) has ordered a probe into the issue.
Delhi Metro's Blue Line — that connects Dwarka Sector 21 with Noida/Vaishali — is the busiest and most snag-prone of all the existing corridors. Of the total daily ridership of 28 lakh, 12 lakh people travel on the Blue Line alone.
DMRC later in the day attributed Thursday's minor fire to a short circuit.
"The air-conditioner had smoke coming out from roof top due to a probable fault in control circuit on the Blue Line at Patel Nagar. As a precaution, deboarding was done at Rajendra Place station. DMRC staff and Delhi Fire Services (DFS) used fire extinguishers and fire-fighting equipment to contain the blaze. Some part of the smoke travelled inside the coach through the heating, venting and air conditioning (HVAC) duct and caused panic amongst passengers," DMRC said in a statement later.
Read More: Is Delhi Metro's Blue Line crumbling under pressure?
The train was taken to the Yamuna Bank depot for further investigation. The fire affected train services for about 15 minutes, after which normal operations resumed.
The Delhi Fire Services received the first call of the incident at 4pm responding to which it sent three fire tenders to Patel Nagar station.
"The smoke was gone by the time the tenders reached. The train was moved to Kirti Nagar station as a precaution as there is an extra track available there that wouldn't affect normal metro operations," a fire official said.
However, the same train caught fire again while being parked at Kirti Nagar station. "The fire was bigger the second time. So four tenders and one sky-lift was sent. The fire was ultimately doused at 5:50pm," the official added
Close Story