Delhi pollution: Government issues health advisory as smog chokes city
Updated on Nov 08, 2016 09:50 AM IST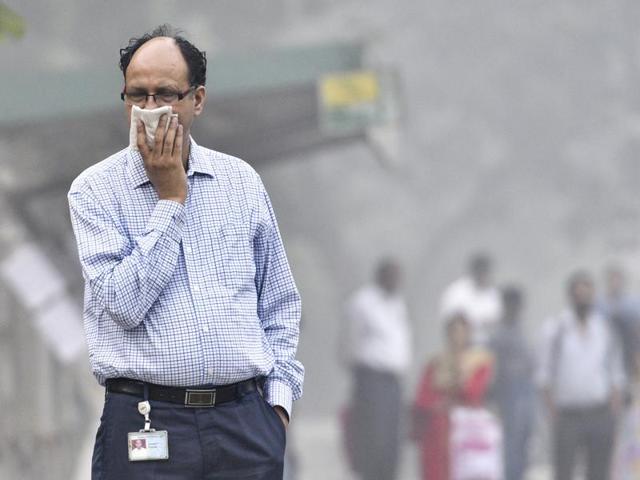 In a first, the Delhi government on Monday issued a health advisory asking people to avoid highly- polluted areas and cautioned those with asthma and lung ailments not to stay indoors, even as the city continued to battle its worst smog in 17 years.
The announcement comes on a day when the administration put into effect a number of measures, including halting of construction and demolition activities, starting the process of deregistering 15-year-old diesel vehicles and imposing a ban on use of fire crackers.
"People with chronic airway diseases like bronchial asthma and lung diseases, should avoid outdoor activities including morning and evening walks," the advisory said.
"In case of breathlessness, giddiness, chest pain, chest constriction or irritation in eyes, etc, visit the nearest hospital, dispensary or a physician," it added.
Read | How to use pollution masks, air purifiers to survive Delhi's worst smog in 17yrs
Cases of severe breathlessness, asthma and allergy have sharply risen in Delhi as the city remains blanketed in thick layer of toxic air due to the worst smog the capital has seen in 17 years.
Doctors and experts say that besides spike in fresh cases, health complications have aggravated in people having a history of asthma, allergy or other related ailments.
The situation earlier had prompted Delhi High Court to observe that it was akin to "living in a gas chamber".
The Centre has termed it an "emergency situation" and today called a meeting of Environment ministers of all neighbouring states.
The city government, during the meet suggested the Centre to consider engineering artificial rain over Delhi and the NCR region which are grappling with record-breaking levels of air pollution.
Read | Curbing Delhi smog: Here's all you need to know about cloud seeding
Personalise your news feed. Follow trending topics