DU wants to teach English literature students how to write Facebook posts
Updated on Apr 25, 2017 11:38 PM IST
Delhi University's English department wants Facebook posts to be part of a course on "academic writing". It has also proposed to add popular writer Chetan Bhagat's debut novel Five Point Someone to a new course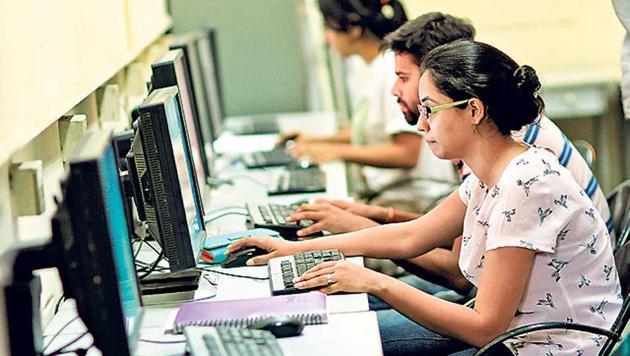 Facebook posts are about to graduate to high literature at Delhi University.
In this age of the ubiquitous social media, one of the country's leading universities wants its English literature students to master writing Facebook posts.
The posts will go beyond the mundane. Ate this, met them, went there – this won't cut. It would be serious "academic writing".
As part of the skill enhancement courses (SEC), students will also be taught to write blogs, cover letters and proof reading.
The idea has been proposed by the English department's choice-based credit system core committee, which wants Facebook posts to be part of a course on "academic writing".
Facebook has emerged as the favourite hunting ground of aspiring writers, poets and artists. It allows them to reach a wider audience and find a publisher too.
Facebook posts as literary writing is not the only syllabus change DU is looking at.
It has also proposed to add popular writer Chetan Bhagat's debut novel Five Point Someone as a 'general elective' paper for students of honours courses other than English, a choice that raised many eyebrows.
The English department has sent to all colleges the proposed changes and teachers have to send in their feedback by May 1. HT has a copy of the proposed changes.
The university had not decided how the course would be taught and instructions would be given only after receiving feedback from teachers, sources said.
Christel R Devadawson, head of the English department, said changes could be made after receiving feedback.
"Skill enhancement courses in general are meant to take the emphasis from just literary centric teaching to broad-based, everyday, contemporary concerns," she said.
Some teachers had concerns about the structure of SEC and those "will be addressed based on the feedback we receive", Devadawson said.
The recommendations will be sent to the academic and executive councils for approval.
Teachers would be offered training programmes on the new topics. "Colleges can also collaborate with organisations and experts who can give specific inputs on these topics," Devadawson said.
Many teachers are of the view that the changes should have been made after wider discussions as was the practice earlier.
Saikat Ghosh, who teaches English at SGTB Khalsa College, said social media was an important tool of communication and it was good that students learn to communicate effectively.
"But my problem is with the way these changes have been brought about without any consultations with teachers at large," Ghosh said.
Teachers from different DU colleges are expected to meet on Wednesday to discuss the proposed changes.