Munak water supply fully restored to Delhi
Apr 09, 2016 11:40 AM IST
The Haryana irrigation department has restored the complete Yamuna river water supply of 1,000 cusecs to the national capital through the Munak canal, which remained affected till recently after it was badly damaged during the Jat agitation.
The Haryana irrigation department has restored complete Yamuna river water supply of 1,000 cusecs to Delhi through the Munak canal, which was disrupted in February because of the Jat quota agitation.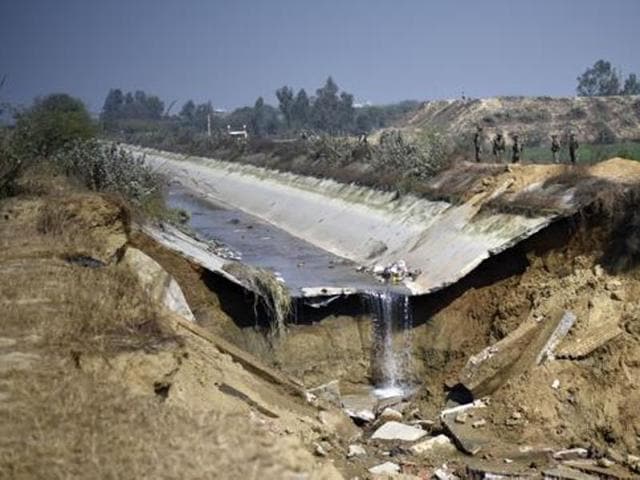 Engineer-in-chief AK Gupta told HT that 700 cusecs of water was being supplied through the Munak canal through carrier-lined channel (CLC), and the supply through the Munak canal's Delhi sub-branch was steadily increased till Thursday and the total supply of 300 cusecs was restored on Friday.
Originating from Munak village in Karnal, the 22-km-long canal was constructed about seven years ago to carry 700 cusecs water to Delhi.
According to Gupta, a team of about 50 workers and officials, including two chief engineers, worked round-the-clock till March 8 when the damages were repaired, though the full supply was restored after steadily releasing water into the Delhi sub-branch so as to ascertain the sustainability of the repairs.
"`1 crore was incurred on the repairs, which has been borne by the Delhi government," he said.
During the Jat agitation, the protesters had blocked the CLC near Garhi-Bindrauli village in Sonepat on February 20 and diverted the water into the Western Yamuna Canal branch, which runs parallel to it and turns towards south Haryana from there.
The supply was restored by the department after two days with the help of the Army but the protesters again damaged it at CLC's head in Khubru village. The supply was partially restored by March 8 after clearing it off protesters and undertaking repairs. The departmental workforce was deployed at the two points till recently amid fears that the agitators may damage it again.
The damages to the control channels of the canal had hit the water supply to Delhi following which Delhi chief minister Arvind Kejriwal had pressed the panic button and even met the Union minister and moved the apex court.
Figures at a glance
Munak canal CLC carries: 700 cusecs
Munak canal's Delhi sub-branch: 300 cusecs
Damaged at two points: February 20, 23
Repaired: March 8
Workforce deployed: 50 masons and beldars with five heavy excavation machines
Expenditure: Rs 1 crore