I am an IIT engineer; can tell you 10 ways to tamper with EVMs: Kejriwal
Apr 14, 2017 09:36 PM IST
Delhi chief minister said in an interview that BJP is using its 'full force' to break the party. He played down the defeat in Rajouri Garden polls and said that it will not impact the MCD election.
Once again raising the voice against 'rigged' EVMs, Delhi chief minister Arvind Kejriwal said that charges that electronic voting machines may have been tampered cannot be denied.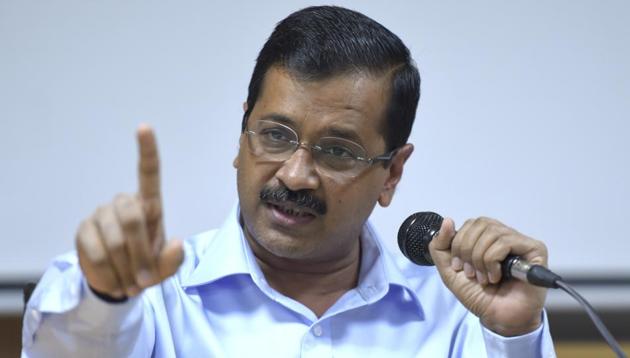 "I am an engineer from IIT, I can tell you 10 ways to tamper with EVMs," he told NDTV in an interview.
Kejriwal has been raising his voice against the use of EVMs along with several other leaders from different political parties. "When an independent candidate in Pune, who got zero votes, is asking where his vote has gone, why shouldn't we question EVM? We cannot shut our eyes," he added.
Playing down the humiliating defeat in Rajouri Garden bypoll, Kejriwal said BJP is using its full force to break the Aam Aadmi Party. "BJP's sole aim is to defeat AAP. They want to break us. We break five corruption nexus in the city-power bills, tanker mafia, school fees and corruption in health facilities and providing medicines. Had I taken money, they wouldn't have targeted us. In the 10 year rule, BJP has done nothing in MCDs," Kejriwal said.
Claiming that AAP government has worked for public, Kejriwal said that their ministers and MLAs are being targeted because they tried to break nexus of corruption in the city.
MCD elections in Delhi are on April 23, and Kejriwal said his party's performance will prove his party's good work in the city. Earlier, on Friday, he also admitted that the defeat in the Rajouri Garden bypoll was because people were angry with the sitting party MLA for leaving the seat. However, he said it won't affect the party in the civic polls.
On the charge that Kejriwal had hired expensive lawyers to defend him in a defamation case, he said that there was nothing wrong with it. He said the case was filed against him because of his statement as the CM.