Kejriwal sorry for farmer suicide, but family says it has no meaning
Apr 24, 2015 04:07 PM IST
An under fire Delhi chief minister Arvind Kejriwal said on Friday it was a "mistake" in continuing an AAP rally after a farmer had hanged himself, but the victim's family rejected the apology saying it made no difference to them now.
An under fire Delhi chief minister Arvind Kejriwal said on Friday it was a "mistake" in continuing an AAP rally after a farmer had hanged himself, but the victim's family rejected the apology saying it made no difference to them now.

The farmer from Rajasthan, Gajendra Singh Kalyanwat, 43, had hanged himself from a tree on Wednesday in full public view at the AAP rally which was also attended by Kejriwal.

The chief minister, who has come under flak for speaking even after the farmer's death, broke his silence for the first time after the incident, which even resonated in Parliament on Thursday.

"I made a mistake. I shouldn't have continued speaking even after knowing that the farmer had hanged himself," he said in an interview to ANI. "I continued my speech after this...I apologise if someone's sentiments have been hurt," he said.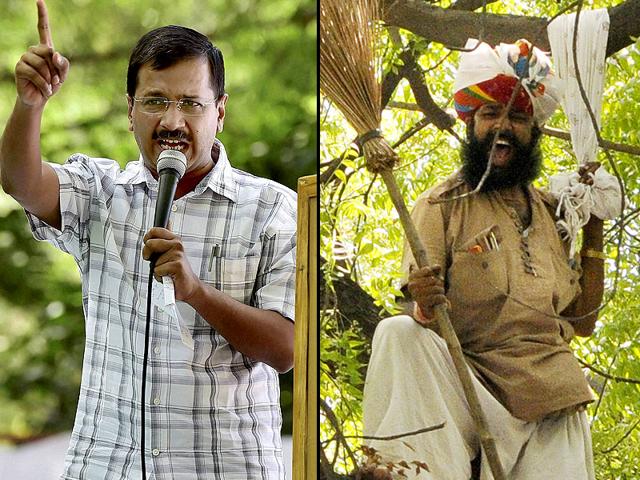 Video: Kejriwal says he's guilty, should not have continued speech at AAP rally
​
The farmer's mother, however, rubbished Kejriwal's apology saying, "Maafi maangne say kya (what's use of this sorry now?).
"Mere yahan chinti ko nahi martey (we don't even kill an ant)," she was quoted as saying, implying that she held the AAP guilty of "killing" Singh.
The farmer's father, Banne Singh, also asked, "Will this apology bring back my son?"

"All this is a sham. Such a big incident took place and he is apologising. How is he going to run the government? Gajendra left behind three small kids. Who will take care of them," Banne Singh said.

Kejriwal, the national convener of the party, also said he is willing to take the blame for farmer's suicide as long as the debate veers back to the plight of the farmers in the country.
"I will take the blame for it. I freely admit that I am guilty. Now that blame has been appropriated, can we start talking about the farmers? I am willing to say that I am guilty as long as the debate turns to the farmers. Punish the guilty as long as the debate comes back to the issue of the farmers," he added.
Read:
Kejriwal, whose party has faced some uncomfortable questions on the role of its volunteers at the time of the suicide, said, "I don't think that anybody present there would have thought that a person would commit suicide."
"It's not right to blame police as well," the Delhi CM said, even as questions on police's alleged inaction at the rally venue came under the scanner in the wake of the tragedy.
Delhi Police and AAP have been locked in a tug of war of claims and counter-claims on how the event unfolded.
Kejriwal struck the conciliatory note a day after Prime Minister Narendra Modi spoke in Parliament on Singh's death, expressed his grief and said there should be a collective resolve to bring an end to farmers' plight.
However, the real reason for the farmer's death has still remained a mystery as Singh is said to be fairly well off with a fairly large, single-storey pucca house at Nangal Jhamarwada village, around 120 km from Jaipur.
Read:
A purported suicide note left by Singh – a father of three -- said he had lost his crop in last month's untimely rain and hailstorm though officials said that crop damage in the Baswa tehsil, where his village is located, was not more than 20-25% which was far less than the damage in many other parts of Rajasthan. The family also owns around 10 acres of land, including a gooseberry orchard and a teak plantation.

The family has, however, debunked the theory that he took his own life, saying the handwriting on the purported suicide note was not his

One of the farmer's two brothers had also added to the swirling conspiracy theories, saying Singh had gone to Delhi on the "invitation" of AAP leader Manish Sisodia, a claim the AAP has denied.
Read:

BJP barrage
The BJP continued with its tirade against Kejriwal with Union minister Prakash Javadekar saying the Delhi CM's apology "is not enough".
"You can't make farmer a spectacle, a showpiece of your office, can't make theatrical of suicide scene in your rally," he added.
Another party leader Nalin Kohli termed Kejriwal a "king of blame-games" and said the AAP chief's politics has been focused only on allegations and acquisitions.
"What a bundle of contradictions, this entire situation is. When it comes to Kejriwal, his entire politics has been focused only on allegations, acquisitions and somehow finding excuses for the lack of work they do. He is almost the king of blame-games because that is what he has done consistently," Kohli added.
Read:
On Thursday, opposition members had created ruckus in the Lok Sabha over the incident, leading to adjournment of proceedings even as the Centre said it was ready to discuss the matter.

Home minister Rajnath Singh had said the crowd gathered for the rally had "clapped" and "raised slogans" as the farmer climbed up the tree and ended his life, prompting the party to accuse Singh of "lying".

Many, including Congress leader Mallikarjun Kharge, sought a judicial probe to fix accountability, saying police are in a dock over the matter and they cannot probe themselves.
(With agency inputs)