Delhi man with bank data of 1 cr Indians held, sold details of each for 10 paise
Hindustan Times |
, New Delhi
Shiv Sunny
Apr 14, 2017 12:15 PM IST
Delhi Police arrested Puran Gupta, 33, from Ganesh Nagar in west Delhi for allegedly selling bank details of 1 crore Indians to fake call centres.
Delhi Police on Thursday said they had arrested a man who they claimed was in possession of the personal bank details of nearly 1 crore Indians.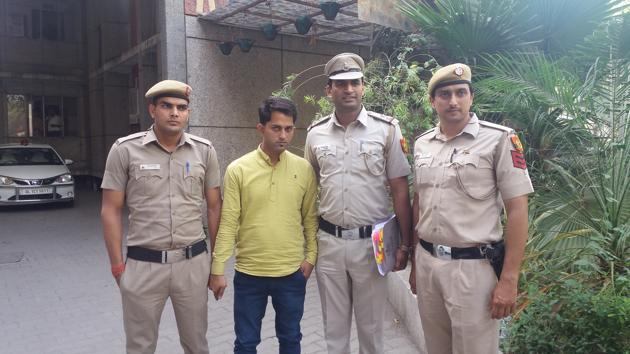 The accused, identified as 33-year-old Puran Gupta, would allegedly sell this data to fake call centres whose employees would in turn use it to call the targeted victims and obtain their one-time passwords (OTPs). Since the fake call centres already had other details related to the credit or debit cards, courtesy Gupta, the OTPs would help them in stealing money.
Gupta was arrested from Ganesh Nagar on Monday after the southeast Delhi police began probing a complaint in which a senior citizen from Greater Kailash was duped of Rs 1.46 lakh by a caller who posed as a representative of Citibank and tricked him into revealing his OTP.
"Much of the money stolen was transferred to e-wallets and online ewallets such as PayU, Paytm, Olacabs, Mobikwik and Vodafone Bill Pay," said Romil Baaniya, DCP (southeast). Since the victim was quick to approach the police, the investigators immediately shot off letters to some of these firms.
"Our prompt action led to these firms returning almost Rs 72,000 of the duped amount," said Baaniya. The police had earlier this month also arrested the owner of a fake call centre, Ashish Kumar Jha, who also used to trick senior citizens and duped their money. When questioned how he had obtained the victim's credit card details and contact number, he named Gupta.
That opened a can of worms. Once Gupta was arrested, a search of his laptop and emails revealed that he was in possession of the personal banking data of nearly one crore Indians. He had stored the data in different folders to meet the exact requirement of his clients.
Some of these classifications were based on the age groups, monthly incomes and credit card limits, police said. "The fake call centres found women and elderly people easy targets," explained Baaniya as the reason for classification of the data.
Apart from the credit and debit card details, Gupta was also found to be in possession of personal data of Delhi University students, lawyers, stock brokers, people interested in night life and those owning cars. He allegedly sold these data for as little as 10 paise per data.
But the hot property was the credit and debit card details of people. Police are probing if employees of some banks helped him procure the data. "He was buying the credit and debit card data for 40 paise per customer. Apart from the card numbers, expiry dates and CVVs, he was able to procure all details filled in the application forms by customers," said another investigator.
A former data entry operator, Gupta, had created a firm that appeared to be involved in data collection, data entry, data market research and online promotion. But he got his firm registered on JustDial which helped him offer the credit/debit card details to fake call centre operators who would call him for data, said the DCP.