MCD polls: Kejriwal tweets EVMs faulty, poll panel says only three complaints
Apr 23, 2017 04:49 PM IST
The controversy over electronic voting machines (EVMs) refuses to die down with voters in few municipal wards allegedly complaining of faulty machines as they turned out to vote on Sunday morning.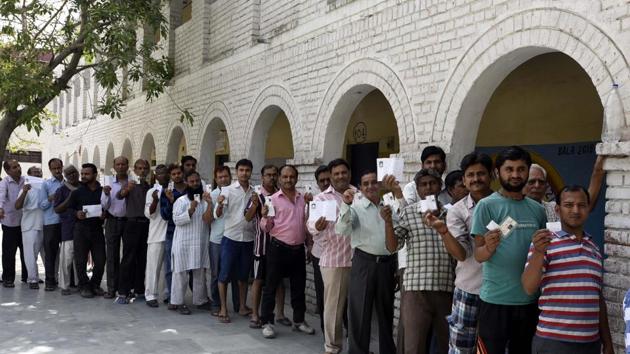 Former Delhi minister and BJP leader Arvind Singh Lovely also could not cast his vote as there were some problems in the EVMs at the polling booth in East Azad Nagar area.
"I reached the polling station at 8am. However, I could not vote as the EVM was not working so I had to leave due to some urgent work. I will go later to cast my vote," he said.
There were also complaints of faulty EVMs in North Delhi's Burari area and South West Delhi's Kapashera due to which voting had to be reportedly stopped for a few minutes.
"There were few complaints of the functioning of EVMs at Burari and Kapashera which has been rectified," an official source said.
Meanwhile, chief minister Arvind Kejriwal questioned the State Election Commission over its preparedness for the polls in a tweet. "Reports from all over Delhi of EVM malfunction, people wid voter slips not allowed to vote. What is SEC doing?" Kejriwal tweeted.
Kejriwal also retweeted Maharashtra Congress leader Shehzad Poonawalla's tweet about complaints on EVM malfunctioning.
The poll panel, however, clarified that only three such complaints were received and all faulty EVMs were immediately replaced.
"Each returning officer is given 4-5 extra EVMs as precautionary measures. As and when, any error is reported, the EVM is replaced immediately. We had received complaints of malfunctioning from three areas in the morning where EVMs were changed," said a senior official of the state election commission.
With PTI inputs