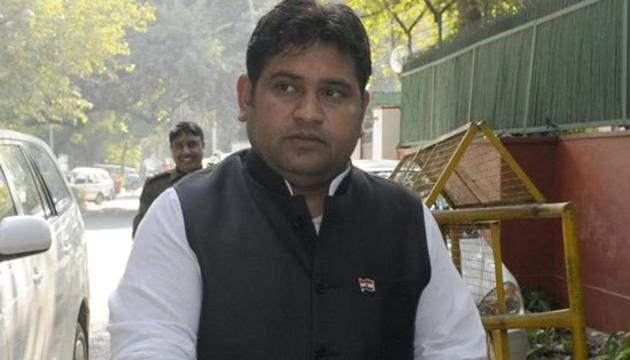 MCD polls: Sacked over sex CD row, former AAP minister campaigns for BJP
Sandeep Kumar, who was removed as minister and suspended from AAP after emergence of alleged sex CDs, was seen campaigning for BJP candidate Savita Khatri in Narela.
UPDATED ON APR 17, 2017 09:30 PM IST
Former minister in AAP government Sandeep Kumar, who was sacked after a sex video allegedly involving him emerged in August 2016, is now campaigning for the BJP in the MCD polls.
On Sunday, the former Delhi women and child development minister, was seen campaigning door-to-door for BJP's candidate from Narela, Savita Khatri. When asked about the reason for the switch he said he was doing it for his "friends". "Where ever my friends are fighting, I will support them. Be it BJP, BSP or the Congress, I will campaign for all my friends. Mr Khatri is a dear friend, so I am campaigning for his wife," Kumar said. The BJP, meanwhile, said that Kumar had not been called to campaign for the candidate .
However, during his campaign for the BJP, Kumar was heard criticising the AAP and its chief Arvind Kejriwal. "Kejriwal is fooling and misleading Delhi's people with his broom," he said. The former minister however, made no statements on whether he is joining any party. Kumar also alleged that AAP indulged in caste politics.
Delhi chief minister Arvind Kejriwal had sacked SC/ST welfare and women and child welfare minister Sandeep Kumar, last year after he was purportedly shown in compromising position with two women in a CD. He was also suspended from the party later.
In the 9-minute long CD, Sandeep Kumar was seen with two women. The CD contained pictures of Sandeep Kumar in compromising position with one woman. The other part of the CD contained a video with another woman.
However, the Bharatiya Janata Party (BJP) said it was a mischievous attempt by the Aam Aadmi Party (AAP) and Congress to create nuisance. Shyam Jaju, national vice president, BJP said both --AAP and Congress --are passing through a rough phase and have lost connect with the people hence they are indulging in misleading campaigning. "We have been demanding action against Kumar since the beginning. The allegations being levelled against BJP, are planned ploy to malign our election campaign. They are anxious as their leaders are joining BJP in large number," Jaju said.
BJP spokesperson Naveen Kumar too termed it as planned conspiracy hatched by the AAP and Congress to hamper prospect of BJP's candidate in Narela ward. "It was planned mischief as AAP MLA Alka Lamba also tweeted about this, which clearly indicates it is a deliberate attempt to sabotage BJP campaign," he said.
ENDs
Close