'Drunk' Russian national rams into biker, punches Delhi cop
Dec 09, 2015 10:41 PM IST
An allegedly inebriated Russian national assaulted a constable after he rammed a Russian embassy car into a motorcycle and severely injured the biker in the Capital's diplomatic enclave of Moti Bagh, police said on Wednesday.
A Russian national — suspected to be a diplomat — in a speeding car rammed a biker and a police barricade and assaulted a policeman in south Delhi's diplomatic enclave of Moti Bagh early Wednesday. He was allegedly drunk.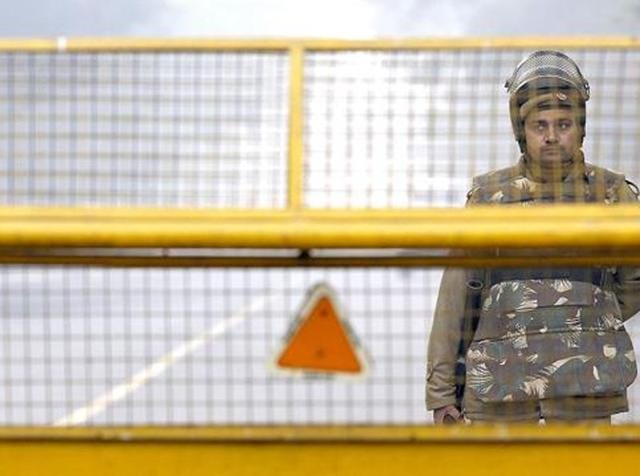 The police brought the matter to the notice of diplomatic security after which some of its personnel and Russian embassy officials arrived at the spot and took away the Russian national along with the car, the police said. When contacted, the embassy spokesperson refused to comment.
"We have ascertained the diplomat's identity but it is to be confirmed, for which we have written to the ministry of home affairs, requesting them to forward the matter to the ministry of external affairs and get the diplomat's name and position verified for further probe," said Deependra Pathak, joint commissioner of police (southwestern range).
Watch | 'Intoxicated' Russian diplomat hits biker, punches Delhi cop
Under the Vienna convention, no case can be initiated against the driver if he holds a diplomatic passport that gives him diplomatic immunity — a privilege that can be revoked only by Russia.
The incident took place at around 1.30am and left the biker with a fractured hand and his friend riding pillion with minor injuries. The motorcyclist had stopped at the police barricade when the speeding sedan, with the familiar blue number plate associated with foreign missions, hit him from behind.
"The car's driver came out and began assaulting the motorcyclist. When Constable Nek Singh intervened, the Russian national manhandled him as well before locking himself in the car when other cops rushed to their colleague's rescue," said a police officer.
The police registered a case of rash driving, obstructing a public servant and criminal assault against unknown persons at the South Campus station on the biker's complaint.
They have also prepared a detailed incident report, including CCTV footage, that will be sent to the home ministry on Thursday, so that it can be forwarded to the MEA, Pathak said.