Sewage overflow troubles Defence Colony
Updated on Jul 27, 2016 08:22 PM IST
With the onset of monsoon, the problem has increased manifold as the rainwater drains are also connected to the sewage system at several points in block B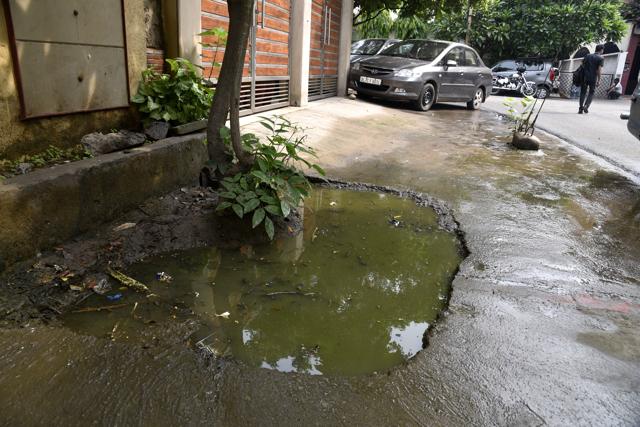 There is resentment among residents of Defence Colony's block B as Delhi Jal Board (DJB) has failed to provide a permanent solution to the overflowing sewer lines here. With the onset of monsoon, the problem has increased manifold as the rainwater drains are also connected to the sewage system at several points. This results in the sewer water flowing on the roads during rains.
According to residents, the situation has worsened this year as overflowing sewer water goes to drinking water pipeline. They are scared that if the situation persists, the contaminated water may lead to spread of water-borne diseases.
"The sewer lines are choked and desilting has not been done here in years. The sewage water back flows, flooding our houses," said Raghu Dayal, a resident of B-100. He said several attempts to contact area MLA Madan Lal in the last one month and DJB officials have not yielded any results.
"He has been inaccessible and DJB hasn't done anything to fix the problem. However, area councillor Abhishek Dutt has been helpful but he can just provide temporary solution because the job to fix the sewer lines belongs to DJB," said Smriti Puri, a resident.
A DJB official said, "A month ago we had arranged for desilting of sewer lines near the main roundabout. Afterwards, we didn't receive any complaints about overflowing manholes. At one place we couldn't clean the drain because of vehicles parked over the manholes and we informed the RWA about it."
Another resident said DJB workers visited the site on Monday and manually cleaned the manholes which is temporary solution; however, overflowing occurred again the next day. "Despite the cleaning , the problem persists as sewer lines in several lanes are still choked," said Dayal.
The area councillor sent a suction machine here on Wednesday. "We faced problems in clearing manhole as an outsider had left his car over it. We had to seek the help of traffic police and a crane was brought to remove the vehicle. After which, our staff could clean it," said Dutt.
Kasturba Nagar MLA Madan Lal denied being approached by residents of block B. He said, "I don't remember receiving any sewage complaints. They must have approached a junior engineer of DJB. As the issue has been brought into my notice now, I will look into it. Sewage blockage is more severe in blocks A and D where work of laying new lines will begin soon. We will find out if block B lines are connected to those pipelines. If that's the case, the new pipelines will resolve their problems."
Residents have also complained that the overflowing of sewage has led to breeding of mosquitoes. The stink is another issue which troubles them.