TN farmers suspend 'skull protest' at Jantar Mantar for two days
Farmers from Tamil Nadu, wearing green dhotis and carrying skulls of allegedly farmers who have committed suicide in the face of what has been reportedly called one of the worst droughts in the states, have temporarily called off their movement.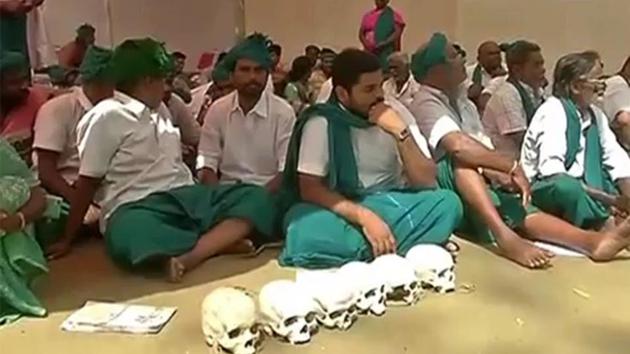 Updated on Mar 22, 2017 07:17 PM IST
Farmers from Tamil Nadu who had been protesting at Jantar Mantar, wearing green dhotis and carrying skulls of allegedly other farmers who have committed suicide in the face of what has been reportedly called one of the worst droughts in the states, have temporarily called off their movement.
The decision came after a meeting with Union finance minister, Arun Jaitley, who has asked them to give him two days' time to discuss the matter of writing off their loans with the Reserve Bank of India.
"We are calling off the protest for two days to give the minister the time he requested. Let's see; we hope he come back bearing good news. Otherwise we may have to die here in Delhi, as we would if we go back home with the loans still due," said P Ayyakannu.
They have also met Uma Bharti, water minister, who has spoken to them about their demands regarding interlinking of national rivers. Bharti reassured the farmers that feasibility studies are being conducted regarding the interlinking of national rivers.
However, the minister, who was accompanied by the deputy speaker of Lok Sabha M Thambidurai, did not address their demands to stop the construction of the Karnataka government's proposed dam at Mekedatu on river Cauvery.
Most of the 100 odd farmers are from Trichy, Karur and Thanjavur regions, and they have been protesting to gain the attention of the central government, so that their loans from nationalised banks may be written off.
"Loans from cooperative banks were written off on the orders of Amma (Jayalalitha), but the state government cannot do much about the loans from nationalised banks. The central government will have to direct them to write it off," said Ayyakannu, while also claiming that the drought relief package for Tamil Nadu farmers needs to be revised, as the current one hardly covers their losses.
The burden of debt compounded by alleged drought like conditions, which ruined both their summer and winter crops, forced over 60 farmers to commit suicide, and killed many others.
"I had taken a loan of R 1 lakh almost 5-6 years ago. I have not been able to pay it back, and now with added interest, the amount I owe has increased to Rs. 3-4 lakhs. Last year, the bank issued a default notice saying that they may take over my property, which my wife received while I was not home . She had a heart attack and passed away when she read it," recalls a teary-eyed G Mahadevan.
Mahadevan is one among the many voices that are fighting to be heard, who have vowed that they will continue to protest until their demands are met.
G Ramesh, a farmer who owes Rs 1 lakh to banks, threatened to commit suicide on Thursday by tying a noose around his neck and attaching the other end of the rope to a tree at Jantar Mantar, while echoing the demands of the farmers for a solution to the drying up of Cauvery river when it reaches Tamil Nadu. "I have two wells. They have both dried up. If they release some of the Cauvery water, then this will recharge my wells too," said Ramesh, who had to be rescued by fire fighters from the tree top.
The farmers have proposed the Smart Waterways Project, conceptualised by AC Kamaraj as the viable solution.
They have also been demanding "fair and just prices" for their products. "An MLA's salary has increased by 220 times since 1970 to 2016. The labour charges to harvest sugar cane has increased from Rs5 in 1970 to Rs 750 to Rs 1000 in 2016. However, the price of paddy and sugarcane has only increased by 22-25 times," said Mahadevan.
The farmers had initially said they would be on hunger strike, but have started eating at the behest of politicians and other volunteers who have gathered in solidarity of the farmers. Many of the protesting farmers are over 50 years of age and suffer from blood sugar, blood pressure and respiratory problems.
Ayyakannu, the leader of the movement, said that with over 20 MPs and many other politicians visiting them he has hope; but many others are not so sure.
"We do not know if the politicians will really work in our favour or not. They have said they will. So we are waiting, with hope; we have no other option," said one of the farmers
Close Story
Personalise your news feed. Follow trending topics