Delhi airport on alert: Seven 'terrorists' seen in army uniforms
Security has been tightened at the Delhi airport after reports emerged that seven terrorists have managed to get army uniform worn by personnel of captain and subedar rank.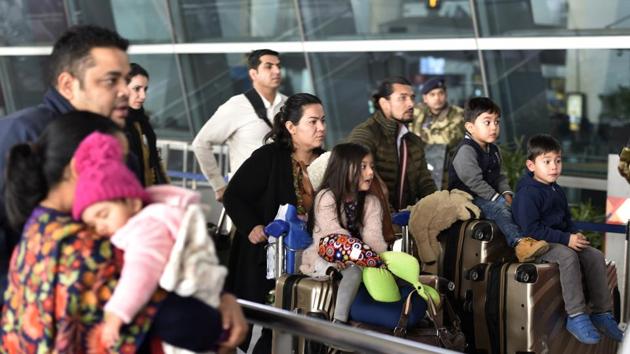 Updated on Feb 16, 2017 05:43 PM IST
Security at Delhi airport and Metro stations has been beefed up following intelligence input that seven terrorists have managed to get army uniform worn by personnel of captain and subedar rank.
The Intelligence Bureau alert, which has originated from Amritsar, said: "Seven terrorists have been seen outside Chakri and Gurdaspur border posts. The group has acquired combat ranks of captain and subedar of Indian Army, which are likely to be worn after infiltration".
Apart from the airport and Metro stations, personnel on election duty in Punjab have also been asked to be on alert. Increased security vigil at the Delhi airport has, however, put passengers at an inconvenience.
Read: Male student locked me up in washroom, made lewd comments: Delhi schoolteacher
"In view of the Republic Day, we are maintaining the highest level of security and two additional layers of frisking have been added at the airport. While at the Metro stations, one layer of security has been added, where commuters are frisked while they are in queue and the second one after they cross the metal detector," said an official with CISF, the force which provides security for airports and Metro operations.
However, fliers have a lot to complain about as the CISF is conducting random frisking at the gate and baggage is screened twice. "At some points, CISF is asking women to remove jewellery before proceeding while some passengers are asked to open their baggage at the entry gate itself. Even at the check-in counters there are long queues," said Radha Singh, a traveller.
Read: YouTube 'kissing prankster' Sumit faces cops again, girls say he's their friend
CISF has also ordered for ladder-point checking, which means passengers may be asked for baggage scanning and frisking at the boarding point.
"We have strengthened the security at the approach road and through speed breakers, vehicles will be slowed down. We have also asked the airlines to start the Secondary Ladder Point Checking (SLPC) just before passengers enter the aircraft. We request the passengers to reach before time as due to multiple layers of security, the queues are expected to be longer," CISF's director general OP Singh said.
Read: Gold worth Rs 26 lakh seized from slippers of 2 fliers at Delhi's IGI airport
SLPC is conducted when the threat is at its highest level and passengers have to go through complete frisking just before entering the aircraft. Presently only few airlines, especially those going to US conduct SLPC. Airlines have been asked to conduct SLPC, either at the aerobridge or in the apron area.
CISF has formed a 'sweeping-squad' and those who are trained in profiling are part of it. "Their job is to identify suspicious passengers as soon as they enter the airport. The members of this squad have been placed across the airport," a BCAS official said.
Close Story