What's driving crorepatis, PhDs, engineers to cash-strapped MCD elections?
Updated on Apr 23, 2017 07:40 AM IST
There are at least 697 candidates with financial asset worth over one crore.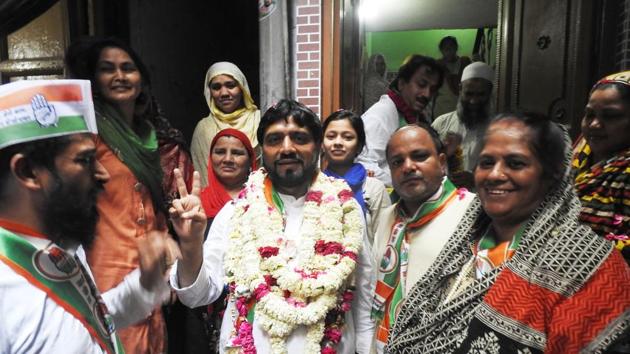 The neck-to-neck competition between 2,500 candidates, who include PhD scholars and engineers, for the municipal corporation elections may create an impression that there is a lot up for grabs for councillors. But all a person stands to gain by virtue of being a councillor is Rs 300 a day when the house is in session.
For Delhi's municipal councillors, there is no fixed salary or power, but MBA graduates and those with crores in their bank accounts, are fighting hard to ensure a win. There are at least 697 candidates with financial asset worth over one crore.
One of the richest candidates this election is Mohammed Usman, a Congress candidate from Sadar Bazar with assets worth around Rs 36 crore. If Usman wins, as a councillor he will not get more than Rs 2 crore for development work in his ward. Depending on the financial state of the municipal body, the fund could be as less as a few lakhs at times.
What is it about the MCD elections that those worth crores or PhD degree holders are pitched against candidates in debt or those without any formal education?
Making a political start
Delhi politicians such as Manjinder Singh Sirsa, Mahabal Mishra and A Dayanand Chandela began their career as councillor and later went on to be MLAs and MPs.
Most candidates HT spoke to said getting elected as a councillor is the first step towards a political career. From a 21-year-old to a 74-year-old, everyone tries their luck. This year, there are at least 10 candidates aged 21.
Subhash Arya, former leader of house, South Delhi Municipal Corporation, said money is not always important for those aspiring to contest elections. "There have been instances when people from well-off families join politics and try their luck in civic elections. Some do it repeatedly even after losing elections because there is an enthusiasm to bring reforms in their areas," he said.
Arya also said that contrary to perception, being a councillor gives a person authority to take decisions related to development work in the ward as well as the city. "For every big project, such as carpeting of roads and drains, the officials need the approval of the house. Councillors can increase or decrease the funds allocated for the project. Even when the house is not operational, officials need to take anticipatory approval from the mayor before extending deadlines for ongoing project," he said.
Contribution to public life
Rakesh Mehta, former Delhi chief secretary, who also served as Delhi state commission chief said that it is a wrong notion that people join politics to make money. "There are people who want to contribute to public life by joining NGOs or politics. The rich already have money but they want to do it for inner peace as well as getting themselves known in society. Not just rich, even the poor with strong community networking are participating in elections because they are sure to get votes from their community."
DO RICH CANDIDATES SWAY VOTERS?
While there are over 697 millionaires, there are also those in debt or those with hardly a few hundred rupees in their account. An independent candidate in East Delhi, Ram Rup, has Rs 113 in his account. There are many others with assets at just over a thousand rupees.
What chance does a man with Rs113 in his account have against some worth crores?
Last month, HT analysed the winning chances of wealthier candidates in the assembly elections based on their affidavits submitted to the Election Commission. HT found out that the wealthiest candidate in the assembly won 33.5% times compared to just 24.6% for the second wealthiest candidate and 17% for the third richest. Odds were heavily stacked against poorer candidates. The fifth-wealthiest candidates in the assemblies, just 6.4% won their constituencies. HT analysed 689 assembly constituencies across five states.
KS Mehra, former commissioner of the unified municipal corporation, believes the financial asset of a candidate does not determine his success. "A candidate's success depends on his/her personality, role in decision making and public speaking skills. No matter how much money you have, why would people approach you, if you are not accessible? Former councillors Dayanand Chandela and Manjinder Sirsa (two of the richest councillors) were known to go out of their way to help people in their wards," said Mehra.
City residents said money is very important to run an effective election campaign. Pankaj Aggarwal, general secretary of Delhi RWA Joint Front, said an important criterion to get a national party's ticket is the ability to raise money. "An ability to raise money or whether you have the money bags with you is important. So that you can spend enough money on intensive campaigning,"
Most city residents HT spoke to said candidates are spending much more than the permissible limit of Rs 5.75 lakh fixed by the Delhi State Election Commission. Atul Kapur, a resident of Shivalik Enclave told HT, "In ward like ours (Malviya Nagar), where close a fight is going on between the contestants of prominent political parties, huge amount is spent every day to convince the voters."
Close Story
Personalise your news feed. Follow trending topics