Assam: Flood and human trafficking go together
Updated on Aug 16, 2016 09:21 PM IST
Human trafficking takes place mainly in relief camps, where organised gangs of touts from cities as distant as Delhi or Mumbai operate.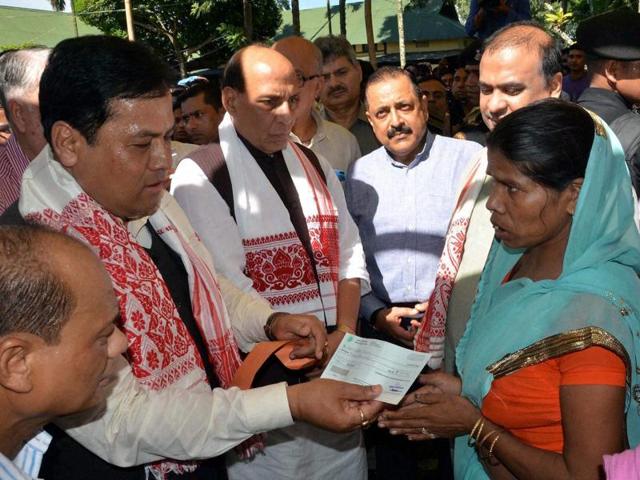 Any natural disaster leaves a trail of consequences and flood is no exception. The overflowing of the Brahmaputra, which has more than 100 tributaries, in Assam is an annual feature and the river is responsible for 40% of the state's land being flood-prone. This year about 40 people have died and more than a million have become homeless in at least 20 of the 32 districts of the state. And this tragedy has been overlaid by another one, and it is that of human trafficking, something Nobel laureate Kailash Satyarthi has referred to from time to time.
Read: Assam flood situation critical; 12 dead, over 20 lakh affected
There are several stages in this phenomenon. The first stage has very little human intervention. Almost from the time people are forced to leave their homes because of the river waters gushing in, children are often separated from their parents. Then they land up in the custody of people who send them off on false promises to distant places, where they either secure small jobs at shops, etc or end up becoming domestic helps. The second stage of human trafficking is the relief camps, where organised gangs of touts from cities as distant as Delhi or Mumbai operate. And it is here that the worst forms of exploitation and extortion are seen. Parents are paid to give their children over to touts, and girls are virtually coerced, again with the consent of parents, into prostitution. If one were to trace the course of child labour, one would find it in relief camps. Parents end up being beggars because there is nowhere they could go as their homes no long exist. According to experts, approximately 7% of Assam's area has been lost to flood over the past 60 years. Then chief minister Tarun Gogoi had asked the Centre for Rs 5,000 crore after the flood of 2014, but what happened this year has proved that there has been no amelioration in the situation.
Read: High risk of modern slavery in nearly 60% of countries: Global index
The Assam government has tried to combat this menace of human trafficking but without success because the police are often complicit in the matter and in league with the touts. But the principal problem lies in the regular floods. Chief minister Sarbanda Sonowal has recently discussed the state's water situation and flood-control measures with the Asian Development Bank and IIT Guwahati. But unless it can be assessed how much the volume of water in the river is during the monsoon due to precipitation, flood control can be at best be partially successful.