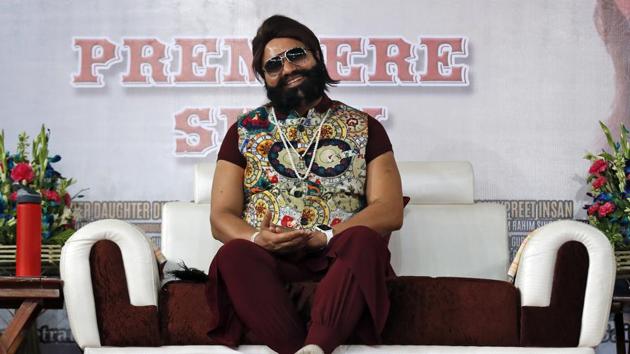 Cults such as Ram Rahim's must not be allowed to become such a public nuisance
The authorities need to take a look at how such cults become almost uncontrollable and stop them from any unlawful activity like stockpiling arms from inception
UPDATED ON AUG 26, 2017 07:30 AM IST
The scenes were very much like those in his much hyped films. The spectacle put on by Dera Sacha Sauda leader Gurmeet Ram Rahim Singh and his followers brought large parts of Punjab and Haryana to a standstill. In the run up to the conviction of Ram Rahim Singh by a CBI court in a rape case, there was such a violent frenzy from his followers that a massive mobilisation by the state had to be undertaken, with trains, schools and telephony being disrupted. Despite appeals for calm, his supporters continued their rampage after the verdict was announced. But the larger question is how these cults are allowed to become a law unto themselves and how it is that they seem to feel a sense of entitlement that they are above the law.
In an earlier case, when the police tried to enter the ashram of a spiritual leader in Punjab who had been long dead but stored in a deep freezer by his followers in the belief that he was in deep meditation, they found themselves facing heavily armed supporters who held them off. This sort of pile up of weapons is not uncommon in these ashrams, and they seem to stay under the radar of the authorities until it is too late. Often, the misdemeanors of these so-called godmen are kept under wraps thanks to the enormous political clout many of them have. In the case of Ram Rahim Singh, he issued calls to his lakhs of followers to support a particular political party in the last round of assembly elections in Punjab. However, whether they enjoy popular support or not, they cannot be unaccountable to the law. The manner in which followers think that they can flout the law is seen from the fact that Dera Saccha Sauda supporters gathered in huge numbers even after expressly forbidden by the imposition of Section 144. In fact the Punjab and Haryana high court had pulled up the Haryana government for not applying the right clauses of Section 144. "Why was assembly not prohibited?" it has asked. Many of these cults have set up establishments on encroached land and that too hardly ever attracts any opprobrium. There have been mysterious deaths in many of them and allegations of sexual misconduct as in the case of Asaram Bapu who is now behind bars.
If Ram Rahim Singh was as keen as he seemed to be that his followers should not create such a public nuisance on his account, he should have reined them in. The fact that the supporters were out in full force was indication that this had at least the tacit approval of Ram Rahim Singh. The authorities need to take a look at how such cults become almost uncontrollable and stop them from any unlawful activity like stockpiling arms from inception. Deploying the resources of the state to ensure peace over one man's conviction seems not just a huge waste but inefficiency in managing law and order in the first place.
Close