Dialogue is the only way forward in Kashmir
Aug 22, 2016 07:45 PM IST
The solution to Kashmir's problems lies in the realm of the political, not the military
Prime Minister Narendra Modi has spoken yet again on the ongoing unrest in Kashmir but this time around, he has tried to apply a healing touch. Expressing deep pain and concern at the prevailing ground situation, Mr Modi said that those who lost their lives during the recent disturbances "are part of us, our nation, whether the lives lost are of our youth, security personnel or police." For the first time in the six weeks that the Valley has been in the grip of unprecedented protests, the prime minister has spoken about civilian killings. But for his words to have any meaningful effect, they must be backed by serious action.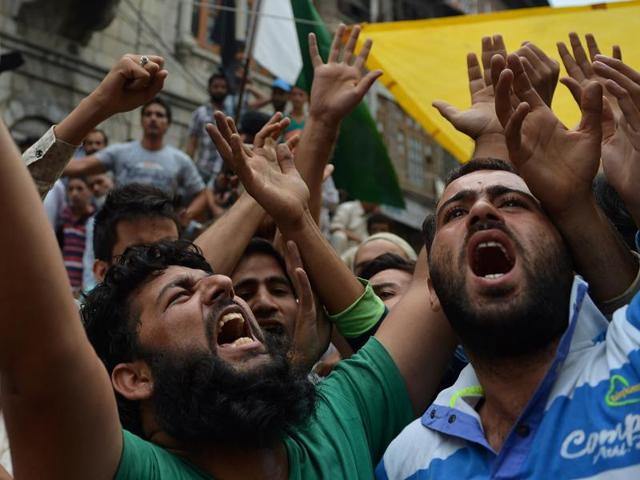 Read | Kashmir crippled by lazy politics, needs greater outreach
This is important because Mr Modi has changed his stance on the current Kashmir crisis once too often. When he first spoke, at a rally in Madhya Pradesh, he leant on former prime minister Atal Behari Vajpayee's Kashmir policy of 'jhamooriyat and insaniyat' (democracy and humanity). Within a few days of that, however, Mr Modi uttered the 'Balochistan' word, leaving Kashmiris wondering why they were being treated as pawns in a game that India wanted to play with Pakistan. Let us also remember that Mr Modi's 'pain and concern' have come a day after finance minister Arun Jaitley blamed Pakistan for the unrest and termed stone-throwing protesters as 'aggressors out to divide the country.'
Read | PM Modi's promise of Insaniyat needs substantive unilateralism
The thinking within government circles in Srinagar and New Delhi was that the protestors would get tired; that exhaustion would set in and the Valley would limp back to normalcy. The enraged youth however, have shown no signs of relenting and the last few days brought news that no nation should countenance — the security forces firing on an ambulance driver and then opening fire on an elderly couple, well into their eighties. Sensing signs of panic among its forces, the Northern army commander appealed to all sections, including the government, to initiate a dialogue. After a meeting with Kashmir-based opposition parties, the prime minister also called for a dialogue to work out a 'permanent solution' within the framework of the Constitution.
Read | A Kashmir policy with Baltistan, owls and chickens
There are enough files already available to Mr Modi for reference: His predecessor Manmohan Singh, who worked the back channels with Pakistan through an envoy, said before demitting office that they were very close to a breakthrough on Kashmir. If Mr Modi does not want to take the back channel route, he could look up files pertaining to Vajpayee's dialogue with the separatists as well as revisit the possibility of initiating talks with the Hizbul Mujahideen. After all, Vajpayee had followed up on his 'jhamooriyat and insaniyat' comment by sending his home secretary to Srinagar for talks with the Hizb. Dialogue is clearly the way forward, for Kashmir's solution lies in the realm of the political and not the military, as the army commander too had hinted it. The time for rhetoric alone has long gone. Now is the time for action.