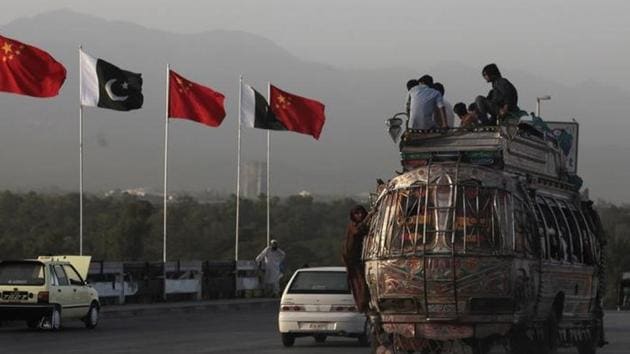 India must be cautious, the China-Pakistan corridor has a geopolitical subtext
It is extremely difficult for India to accept the underlying Chinese claim that the China-Pakistan Economic Corridor, under the Belt-Road Initiative is an economic project with no geopolitical connotations
UPDATED ON MAY 11, 2017 03:18 PM IST
Beijing has stepped up its arguments in favour of its Belt-Road Initiative in the run up to its global conference on the transcontinental infrastructure programme in mid-May. Chinese officials directly sought to address Indian concerns about the flagship project of the BRI, the China-Pakistan Economic Corridor (CPEC), arguing it would not affect the territorial status of Pakistan-occupied Kashmir (PoK) — after all, there is already an existing China-built Karakorum-Kunlun Road going through that region since the 1960s.
Beijing's view on Kashmir, they have claimed, has remained unchanged for decades. The BRI is portrayed as a giant Chinese contribution to global economic integration that would help boost growth and even help keep a check on extremism and terror. Beijing's representatives have also noted that over 40 countries have signed up for the BRI and it has received endorsements even at United Nations forums. The subtext is that India's continued resistance is futile and self-defeating.
New Delhi is right to remain wary. China's actions on the ground indicate a far less benign ambition. The China-Pakistan corridor has increasingly become about providing funds to the Pakistan military and to Chinese State-owned firms — to the point Pakistani industry has complained it is receiving no contracts.
In Sri Lanka, China has not only built a number of economically unviable ports and roads, it has also left Colombo with $8 billion in Chinese debt at onerous rates of interest.
Beijing's use of economic blockades or boycotts against Mongolia recently and the Philippines and Japan earlier are warnings about what could follow from signing up for an infrastructure web centred on China. Other Chinese claims are questionable. Beijing has been tying its Kashmir policy ever closer to the position taken by Islamabad — consider the stapled visa crisis of 2009, the ban on Indian generals of the Northern Command visiting China and the unabashed support at the UN for terrorist Masood Azhar. A recent oped article by a Chinese academic, though probably not an official view, merged the BRI with China's "all weather friendship" with Pakistan and argued that, logically, Beijing now had reason to intervene in the Kashmir dispute.
All of this makes it extremely difficult for India to accept the underlying Chinese claim that the BRI is an economic project with no geopolitical connotations. Under the BRI, all roads would lead to Beijing. Inevitably, Chinese power will flow along the supply chains and logistical paths that it will create and control.
Close