Maharashtra government must not give a free hand to cow vigilantes
Aug 23, 2016 11:19 PM IST
Maharashtra government's appeal to get more volunteers for "animal welfare activities on religious grounds" will be a jeopardy as it will allow cow vigilantes to freely dictate what does or does not constitute cow protection
The Maharashtra government seems to be working at cross purposes with the Centre on the issue of cow protection. The prime minister made it clear that at least 80% of so-called gau rakshaks were anti-social elements working under the guise of cow protection and roundly condemned their actions. Now the department of animal husbandry in the state has called for volunteers engaged in "animal welfare activities on religious grounds" to apply for honorary positions as welfare officers to monitor the beef ban. The requirement is that they should have no political affiliations. Those selected will get official ID cards to monitor and report any act of cruelty to animals. Many of the applications cleared are from those belonging to Hindutva outfits such as the VHP, Bajrang Dal, Shiv Sena, ABVP and RSS.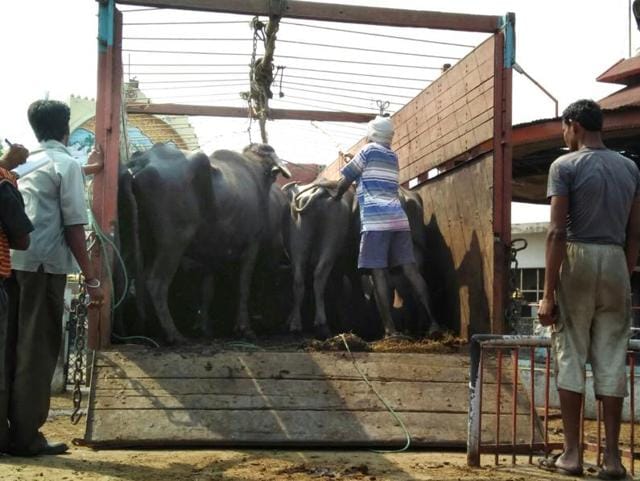 Read | New symbol of Hindutva project: Is Gau Raksha the new Ram Mandir?
This is really giving gau rakshaks legitimacy to harass people under guise of carrying out `official' duties. While these volunteers are to cover all animals, it is clear from the jubilation in the Hindutva camp that the focus will be on cows. This will embolden the vigilante groups, which is exactly what the prime minister had warned against. The Maharashtra government — run by the BJP — cannot be unaware of the fact that this has been taken as licence by vigilantes to monitor the transport of cattle, the disposal of carcasses and to examine any meat either being carried or stored that they deem suspicious. This scheme, which has no clear guidelines or recruitment criteria will create more fear and anxiety among minorities who are automatically under suspicion when it comes to cow protection.
Read | 'Gau rakshaks' and cow-vigilante groups cloud PM Modi's economic drive
So far the gau rakshaks have harassed people on the basis of rumour, even going to the extent of lynching those whom they suspect of anti-cow offences. This has tarnished the government's image both nationally and internationally and it was to reverse this damage and protect the innocent that the prime minister expressed such strong sentiments. But it would seem that rather than stop this ugly trend, the Maharashtra government has found a way around this and sought to give this official sanction. This will make it more difficult to crack down on these anti-social groups which will now find it easier to evade being apprehended and prosecuted given the very broad mandate they now have. The Maharashtra government must also be mindful cattle are not synonymous with meat alone. They are at the centre of the diary and leather industry. All this could be jeopardised if cow vigilantes are allowed to freely dictate what does or does not constitute cow protection. The laws to do so are in place and any other form of law enforcement is illegal and undesirable. The Maharashtra government must review this consequences of this scheme immediately and scrap it.
Read | In state after state, cow protection vigilantes pick on Dalits, Muslims