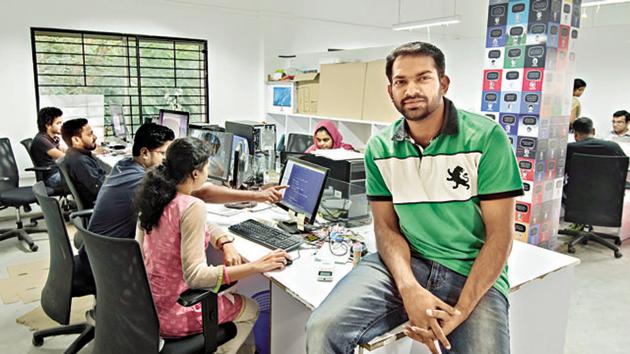 Millennials are hungry for lessons in entrepreneurship
Given the new demographic and economic realities, India can't rely on fate, chance and luck to produce its next wealth and job creators
By Sunil Kant Munjal
UPDATED ON DEC 29, 2016 11:47 AM IST
India is a country that survives and flourishes through millions of businesses and enterprises, and entrepreneurship runs in the bloodline of many Indians. The joke is that whilst China invests in commodities, resources and infrastructure, Indians invest where they see a profit!
Even so, India's entrepreneurial ecosystem has a yawning gap in the middle: large businesses at the top, and millions of small and fragmented businesses at the bottom. Worse, entrepreneurship is yet to become an acceptable vocation and career pursuit for the backbone of Indian society – the educated middle class; this group remains "risk averse and employment obsessed.''
The status quo can't continue any longer. With jobs in government and in large corporate houses drying up in recent years for a variety of reasons, India's educated class may increasingly be left with few other options but to branch out on their own.
New enterprises are India's lifeline; as enterprises grow and gain size and scale, they have the capacity to absorb new jobs and skills faster than any large corporate or arm of the government — and therefore, can contribute more effectively to a nation's rapid growth and progress. America, Korea, China and South East Asia are fruits of an entrepreneurial culture.
So what is the best way to begin? A solid foundation in entrepreneurial education, obviously. By the time students graduate from college, they should not just have the fire in their belly, but the requisite skills to lead, manage people, take risks and innovate.
Yet even before students are equipped in these areas, institutes and faculty must be equipped to show the way.
The government has set up a few institutions to teach entrepreneurship since the 1980s. These include the Entrepreneurship Development Institute of India in Gujarat, the Indian Institute of Entrepreneurship in Guwahati and the National Institute of Entrepreneurship and Small Business Development in Noida. These institutes have trained lakhs of aspiring entrepreneurs, yet entrepreneurial education in India remains at best a fledgling effort.
Business schools also run entrepreneurship courses as part of their post-graduate management diploma and degree programmes. Ironically though, India's most successful new entrepreneurs are products not of business schools but of engineering colleges. Likewise, the promoters of successful enterprises - Reliance, Hero, Bharti, Apollo Hospitals, Kotak etc – were built by self-taught, and learning-on-the-fly entrepreneurs.
Yet in today's India, this organic and by-chance route to entrepreneurship is no longer feasible or viable. Given the new demographic and economic realities, India can't rely on fate, chance and luck to produce its next wealth and job creators.
Read: Builders have a new mantra: homes for millennials
To make entrepreneurship learning accessible and effective, the fire has to be stoked within classrooms; treating entrepreneurship teaching as an add-on to other courses can't be considered an effective option any longer.
Entrepreneurship has to be taught in a hands-on, experimental and experiential manner; it cannot be drilled or rote-learnt; it has to be imbibed.
There is however, a sliver of hope: today's young are more risk averse; they are willing to take more chances. Millennials have grown up seeing an open world, empowered with information and digital technologies; they believe anything is possible, unlike their parents and grandparents.
Today's young are also more realistic and pragmatic about job security. They have seen uncertainty over the past decade, and many don't aspire for life-long employment in an organization; they treat jobs not as dependency on the employer but as selling time and skill in the market. Therefore, teaching entrepreneurial behavior to this generation becomes easier.
Read: 93% Indians want to be entrepreneurs: Study
The key to teaching entrepreneurship effectively is to coach and not just explain. Teachers have to train students how to spot opportunity; how to organise financial, human and technological resources to profit from opportunity, and how to win customers. Demonstration, handholding and personalisation must replace droning lectures.
Beyond the standard knowledge of business concepts and laws, the teaching of entrepreneurship must involve simulation of real business situations with real benefits and costs to the students and the institute, even if it means starting with pilots at first.
Students must have to identify opportunities, create business plans, make presentations to venture investors, build leadership teams, organise supply chains, pitch to key customers, etc. Industry must be on board to source faculty and to facilitate experiential learning, and, curriculum has to track the business trends and change frequently.
Risk-taking is at the core of entrepreneurship, and students must be coached to challenge the status quo and bend the rules. Teaching entrepreneurship must promote resourcefulness and discourage risk-aversion. The student assessment must reward venture, and not knowledge.
The way to attract students to entrepreneurship has to involve clear rewards for formal learning. A qualification in entrepreneurship must make it easier to get venture funding, bank loans, operating licenses etc. Also, startups and companies that constantly complain about the lack of initiative among their hires should declare a clear preference for entrepreneurship graduates.
Ideally, teaching entrepreneurship has to begin early, at school. School fetes and fairs could be used to inculcate the tenets of business in children. Colleges and universities need to offer courses in entrepreneurship where management skills are supplementary. Entrepreneurship is not about running the business; it is about making deals. Importantly, regulation of entrepreneurship education must not cast it as a formula, which would make entrepreneurship learning pointless.
Autonomous organisations need to play an important role in promoting entrepreneurship learning. For example, the All India Management Association, which has been promoting management development for 60 years, is now considering expansion of its focus to include entrepreneurship development.
India needs entrepreneurship education on a large scale and the government and the education sector have to quickly work out the ways to make it happen. The new generation deserves it and the country needs it.
Sunil Kant Munjal is president All India Management Association and chairman, Hero Corporate Services.
Close