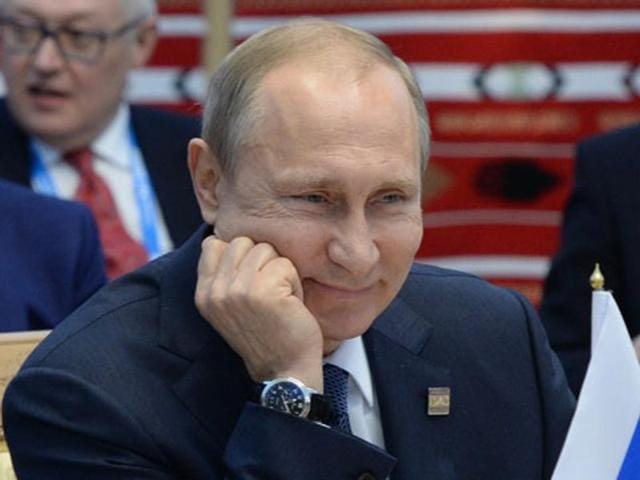 Putin pulls back from Syria and shifts the focus to Geneva
Vladimir Putin's decision to pullback Russian troops from Syria comes at a time when peace talks start in Geneva. This is a positive development, but a lot will depend on outcome of the talks
PUBLISHED ON MAR 15, 2016 10:05 PM IST
Russian President Vladimir Putin has achieved in five months what United States President Barack Obama has not in five years — impose a ceasefire and bring the warring factions in Syria to the negotiating table. Mr Obama's support to these initiatives was crucial, but it's clear that in Syria the US has followed Russia's lead.
Mr Putin said on Monday that Moscow would pull out a major part of Russian forces fighting in Syria because the objective of its deployment has been "fulfilled". His surprise announcement, in keeping with his style, is a departure from conventional diplomacy, but is sure to bring Syrian President Bashar al-Assad, who has expressed ambitions to retake Syrian territory using force, to the negotiating table.
Read | President Putin orders start of Russian forces' withdrawal from Syria
Since 2011, from when the civil war broke out in Syria, Mr Obama has been "assessing" a region plummeting into chaos. While Washington has been pusillanimous of ground intervention, Moscow went ahead, took the lead and is today determining the narrative in Syria. It not only protected Mr Assad but also put the Islamic State (IS), al-Qaeda and other militant groups on the back foot.
Mr Putin's announcement is important because it puts to rest doubts expressed by the United States, Europe and Sunni states in West Asia that the only reason for Russia's intervention was to stop Mr Assad's downfall. Russia's intervention has indeed helped Damascus regain control over more than 10,000 sq km – but this development has crucially led to the Geneva talks.
Many reasons are attributed to the reasons for the pullback — a weak Russian economy, low morale among Russian forces and the presidential elections next year. Nevertheless, Mr Putin's decision is being applauded by leaders in the West.
Read | Obama, Putin discuss Russia's planned military drawdown from Syria
The observations in the report by the UN Commission of Inquiry on Syria are important — it is expected to open old scars and put to rest many speculations, but action should be taken against those accused of war crimes. This is essential for Syria's long-term peace.
This peace will also depend on the stability and co-operation of its neighbours, especially Turkey and Iraq. The bomb explosion in Ankara, in Turkey on Sunday, killing 37 people, is a reminder that it's a long and winding road towards peace and stability.
Without doubt Russian intervention has forced different parties to come to the negotiating table in Geneva — but Monday's announcement could put this progress at risk. That's because the pullback can embolden rebel groups to break the ceasefire and the IS and al-Qaeda can intensify its attacks. The next few weeks will be crucial and it will chart the course for Syria and peace in West Asia.
Close