We should have seen the Bengaluru flood coming
While it is an unprecedented and massive downpour that has resulted in several areas of Bengaluru becoming inundated, it is once again, a man-made disaster that could perhaps have been avoided by building the city in a sustainable way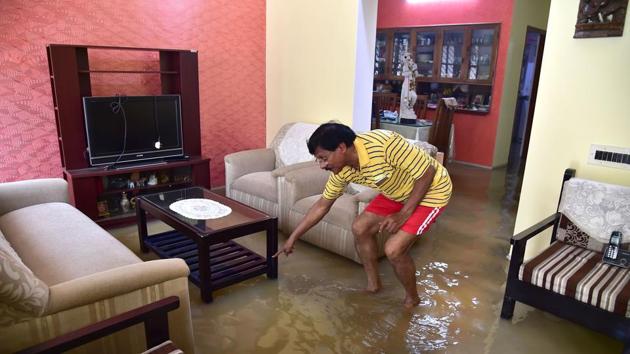 Published on Aug 17, 2017 09:47 AM IST
Yet another major Indian city finds itself in the throes of a flood situation after one night of heavy rainfall. While it is an unprecedented and massive downpour that has resulted in several areas of Bengaluru becoming inundated, it is once again, a man-made disaster that could perhaps have been avoided by building the city in a sustainable way. The flood situation in Bihar, Assam and several other parts of the country is proof that we are living in challenging environmental times; and the spectre of climate change must now be dealt with on an immediate basis.
Cities in which lakes catch fire because of the build-up of toxic effluents in it, and groves of trees have been sacrificed at the altar of development; cannot expect to live insulated from the furies of nature. It is these very development projects that have contributed to the blocking of natural waterways that could have helped drain the rain water harmlessly. As we witnessed in Chennai in 2015, rampant construction and blocking waterways to the sea had flooded a city on the banks of the ocean. The situation in Bengaluru is no different. There have been many warnings about the unsustainability of urbanisation in this area, with warnings as dire as the one that Bengaluru city could become unlivable by 2025.
The city has been an environmental disaster for many years now. What was once called the city of lakes has now ignominiously become the 'city of burning lakes'. In the face of unchecked urbanisation that came with the IT revolution, Bengaluru's lakes – that could have relieved the pressure of an unusual downpour – have all but vanished. According to studies conducted by the Indian Institute of Science, there has been a 1005% increase in paved surfaces in the city between 1973 and 2016. The vegetation of the city on the other hand has decreased by a whopping 88% and water by 85% between 2000 and 2014. This flood, therefore, should come as no surprise at all.
What is required now is a drastic, immediate, and concerted effort to save what remains of the city, and ensure that its citizens can continue to live there in the next decade.
Close Story