4 IITs, IISc among Asia's top 50 universities: QS Rankings
Jun 15, 2016 11:58 AM IST
IISc, which is placed 33rd this year, had emerged as the top Indian institute last year as well when it was ranked 34th
Indian Institute of Science (IISc), Bangalore and four IITs -- Mumbai, Delhi, Madras and Kanpur -- figure in the list of Asia's top 50 universities, as per the QS University Rankings for 2016.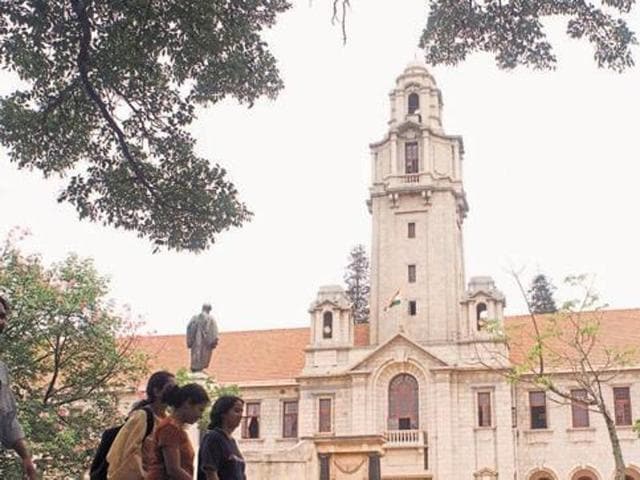 IISc, which is placed 33rd this year, had emerged as the top Indian institute last year as well when it was ranked 34th.
IIT-Mumbai has been ranked 35th, closely followed by IIT-Delhi (36th), IIT-Madras (43rd) and IIT-Kanpur (48th).
IIT-Kharagpur was placed 51st and two other IITs --Roorkee (78) and Guwahati (94) -- made it to the top 100.
Delhi University (DU), which had got 91st position last year, has jumped several steps and was ranked 66th.
University of Calcutta was ranked 108th, a big jump from 149th last year, University of Mumbai 145th, while Banaras Hindu University is placed at 155th position. Panjab University is in the 251 to 300 bracket.
Overall, like last year, National University of Singapore (NUS) has been ranked the best university in Asia, followed by University of Hong Kong.
India's performance in these rankings is the fifth best among the 17 countries that feature in the ratings. While India has 23 universities in the list of 350, it is outperformed by Taiwan (34), South Korea (54), Japan (72) and China (82), who also dominate the list of top 10 institutions.
Other Indian institutions which figure in the rankings are Amrita University (169), University of Pune (176), Amity University (195), Manipal Academy of Higher Education (200) and Anna University (251-300 band). Indian Institute of Information Technology, Allahabad, Pondicherry University and Andhra University are in the 301st-350th band. QS had evaluated 920 universities from the Asia region for this year's rankings.
The good news from the Indian perspective is that most of its institutions have climbed to higher positions from last year.
IIT-Mumbai has jumped 11 positions while IIT-Delhi has climbed six places from 42nd rank last year. IIT-Madras jumped 13 places, IIT-Kanpur 10, IIT-Kharagpur 16, IIT-Roorkee 14 and IIT-Guwahati four places from the last year's rankings.
IISc, Bangalore, which emerged as the top Indian institution in the QS rankings, was also rated as the best Indian university in the HRD ministry's first ever National Institutional Ranking Framework (NIRF) released earlier this year.
According to a statement released by QS rankings, "IISc's success is partly due to its highly impactful research and it achieved the perfect weightage score for papers per faculty." This year, the QS rankings also introduced 'Staff with PhD' to analyse teaching quality, the statement said.