'A lot of sweat, toil and tears go into the making of a neurologist'
Helping patients with neurological disorders come to terms with their situation, curing them and seeing them go back home with a smile on their faces is a job well done for Deepti Vibha, a neurologist.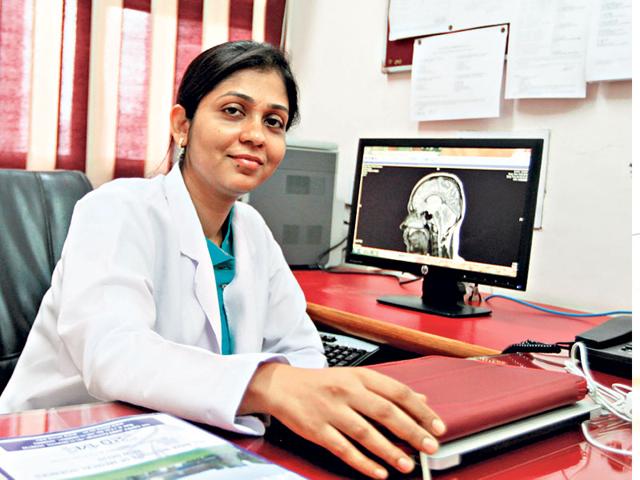 Updated on May 29, 2015 06:27 PM IST
Hindustan Times |
, New Delhi
Aanchal Bedi
A lot of sweat, toil and tears go into the making of a neurologist," says Dr Deepti Vibha, an assistant ­professor, department of neurology at All India Institute of Medical Sciences, New Delhi. "Neurology was my passion as there is no other area of medicine which is as ­complex as ­brain/­nervous system. I drew ­inspiration from my teachers while pursuing my ­graduation and ­postgraduation. The workload and fascination for teaching were prime factors that motivated me to study ­neurology," she says.
Vibha did her MBBS from King George's Medical University, Lucknow, which is a five-and-half year course. Subsequently, she pursued an MD ­(medicine) from Ganesh Shankar Vidyarthi Memorial Medical College, Kanpur, and ­followed it up with a ­three-year ­doctorate of medicine in ­neurology from the All-India Institute of Medical Sciences (AIIMS), New Delhi. Thereafter, she decided to pursue a career in academics and joined a government hospital as ­faculty.
"At the initial stage of training as a medical student, I was exposed to clinical specialities like medicine, surgery, paediatrics, orthopaedics, otorhinolaryngology, obstetrics and gynaecology and ­ophthalmology. I learnt how to take down a patient's ­medical ­history and examine him or her. I was taught about para-clinical and ­diagnostic specialities like ­pathology, microbiology and ­radiology ­during MBBS training. After getting a bachelor's degree in medicine and surgery, I sat for an entrance ­examination for the ­speciality I wanted to pursue," she shares.
One should be ready for intense hard work, advises Dr Vibha. "The entrance ­examinations are quite competitive. Therefore, it might not always be possible to get the ­speciality you are aspiring for. I was interested in medicine and was ­fortunate to get selected as well. The training includes both theory and practical aspects where one has to spend long hours in ­reading ­medical books and attend to patients. Anyone wanting to take up this profession should be aware that it is very ­demanding and requires utmost ­dedication."
Neurology is different from ­neurosurgery as it deals with ­managing patients who suffer from ­disorders of the brain, nerves and muscles which do not require ­surgery for treatment like brain and ­spinal cord tumours, head trauma etc which do not come under the realm of neurology.
"Neurologists have to ­meticulously trace the ­medical ­history of the patient and minutely study the ­symptoms to arrive at a precise ­diagnosis. They also deal with life-threatening cases on a regular basis. These include acute stroke, acute and chronic ­meningitis, encephalitis, ­autoimmune neurological diseases, ­demyelination, acute neuropathy, myelopathy and myasthenia gravis, to name a few. Timely treatment ensures rewarding outcomes of all these conditions," explains Vibha.
A day in the life of a ­neurologist includes attending to patients in the OPD (out-patient department), IPD ­(in-patient department) and ­emergency from morning till the end of the day.
"In OPD, I attend cases ­of ­epilepsy, ­headache, infections of the brain, ­multiple sclerosis, spinal cord ­diseases, ­neuropathies, Parkinson's disease, sleep ­disorders, dementia and other genetic ­disorders. In IPD, I attend to patients who are a diagnostic ­challenge and those who require in-hospital ­management. Emergencies are seen on a ­round-the-clock basis at AIIMS," she says.
Young people wanting to take up this ­profession "should have an enormous amount of patience and be willing to spend long hours with patients with ­neurological ­diseases or problems, record their history and examine them in detail for a correct ­diagnosis. An optimum ­management plan is then drafted. Some ­neurological diseases are chronic and such patients require ­counselling and rehabilitation ­support apart from medical therapy. Therefore, neurologists must have empathy and patience," says Vibha.
One should also have the ability to go beyond the call of duty and ensure a patient's comfort level. Excellent ­communication and research skills are a must. Also, one has to ­constantly stay updated on the ­latest in the field of neurology.
Is it a stressful job? "There are no definite working hours as such because emergencies can come up ­any time of the day. It does get ­stressful at times but it is also the most ­rewarding and ­satisfying career. Neurology case ­evaluation requires a lot of time, compassion and sensitivity," she says.
Considering that lifestyles have become stressful in today's time, ­neurological ­disorders are on the rise.
"According to a 'Journal of Association of Physicians of India' in January 2012, there were ­approximately 1,100 qualified ­clinical neurologists working in India, which is inadequate for 1.2 billion Indians. Hence, there is an urgent need for more ­neurologists across the ­country. Also, we require more ­institutes for ­training, but not at the cost of quality. Very few people are ­interested in ­pursuing a career in academics and ­teaching due to monetary reasons and lack of opportunities in the ­government sector. Credence should to be given to teaching and research in this field. Also, ­teaching ­hospitals, especially those ­having DM/DNB ­programmes, need to retain ­competency in order to raise the standards of training," says Vibha, who has also received the ML Soni book prize for being the best ­neurology DM ­resident at AIIMS.
As for remuneration in the field, she says, "In ­government hospitals, the ­starting salary ranges from `60,000 to `1 lakh per month. This is very low when you compare it with ­private hospitals, where ­salaries start from `2 lakh to `5 lakh per month. However, there is huge scope in this field. Neurologists are an integral part of any super or ­multi-speciality ­hospital, be it ­government or ­private. These days there are various ­sub-speciality ­fellowships in stroke, ­neurophysiology, epilepsy, movement disorders, sleep, ­neuromuscular ­disorders, neuro-immunology, mostly abroad, which can give doctors an edge over others."
For Vibha, saving lives, curing patients and seeing a smile on their faces when they go back home fully recovered is extremely ­satisfying. "I consider these as my rewards. My father is a retired bank officer and my mother is a homemaker. Being the only ­doctor in the ­family is a matter of pride," ­concludes Vibha.
All about
Dr Deepti Vibha
Profession: Neurologist
Day begins at: 5.30am
Day ends at: No fixed hours
Work hours: Usually eight hours
Social responsibilities: Spreading awareness about strokes, epilepsy and other neurological disorders
Family: Husband is a nephrologist and they have a four-year old son
Vacations: Last year, to the lovely Kashmir valley
When not at work: Likes to read, travel and spend time with family
Getting to know her
Deepti Vibha is an assistant ­professor at the All India Institute of Medical Sciences, New Delhi.
She did her MBBS from King George's Medical University, Lucknow, which is a five-and-half year course, following which, she did an MD ­(medicine) from Ganesh Shankar Vidyarthi Memorial Medical College, Kanpur. Subsequently, she pursued a three-year ­doctorate of medicine in ­neurology from AIIMS, New Delhi.
Vibha has received the ML Soni book prize for being the best ­neurology DM ­resident at AIIMS.
Vibha deals with neurological ­diseases such as acute stroke, acute and chronic meningitis, encephalitis, demyelination, acute neuropathy and myelopathy to name a few.

Oncology
Dealing with tumours
Oncology is the study of ­cancer, a disease characterised by ­abnormal cell growth in the body. Its ­sub-specialities include ­surgical oncology, medical oncology and radiation oncology.
A medical oncologist ­provides systemic therapy such as ­chemotherapy, ­hormonal therapy, targeted ­therapies and bone ­marrow transplants.
According to a WHO India report, by 2020, the developing world is likely to have 70% of the projected 20 million cancer-stricken patients globally.
There are, however, far fewer oncologists in India than required, especially for surgical and ­medical (involving therapy such as ­chemotherapy) treatment.
As an oncologist, you will need to counsel a patient, make him/her come to terms with the disease and get treated for it.

At times, patients may find it difficult to cope with a life-threatening ailment and might panic or get depressed. Medical experts have to help them stay positive and alleviate their suffering, so inter-personal skills are as crucial.
Endocrinology
Treating hormonal disorders
Endocrinology is a branch of ­biology and medicine dealing with the endocrine system, its diseases, and its specific ­secretions of what we know as hormones.
It is also concerned with the ­psychological or behavioural ­activities of metabolism, growth and development, tissue ­function, sleep, digestion, respiration, ­excretion, mood, stress, ­lactation, movement, reproduction and sensory perception caused by ­hormones.
An endocrinologist is a medical doctor (MD) who has specialised in the treatment or research of disorders that affect the endocrine system and the function of glands that produce and release hormones into the bloodstream.
Nephrology
Say no to kidney problems
Nephrology is a specialisation of ­medicine and paediatrics that concerns itself with the study of normal kidney function, kidney problems, the treatment of kidney problems and renal replacement therapy (dialysis and kidney ­transplantation).
Nephrologists are physicians who deal with kidney disorders including — fluid and electrolyte disorders, acid-base disorders, kidney stones, glomerular diseases, tubulointerstitial diseases, mineral metabolism, acute kidney disease, acute renal failure, chronic kidney diseases, chronic renal failure, end stage renal disease and dialysis. Nephrologists may further sub-specialise in dialysis, kidney transplantation, chronic kidney disease, cancer-related kidney diseases etc.
Close Story
Personalise your news feed. Follow trending topics