Girls outperform boys in AP intermediate exam, check details here
Updated on Apr 20, 2016 08:35 PM IST
The exam was conducted by Andhra Pradesh Board of Intermediate Education - BIEAP.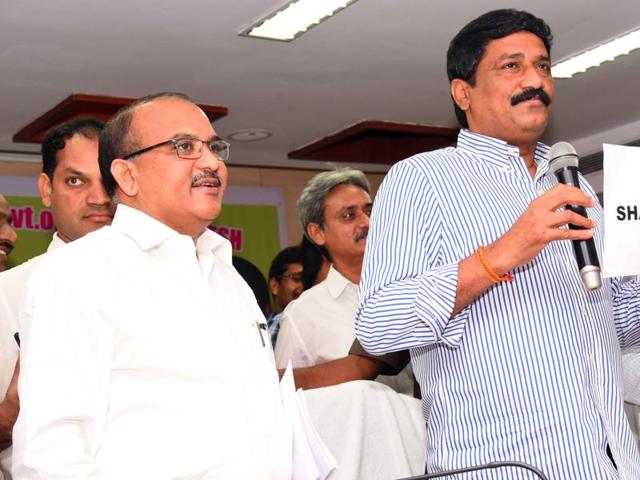 Girls outperformed boys in Andhra Pradesh's Board of Intermediate Education's first and second year (general and vocational) intermediate examinations result which were declared on Tuesday.
State minister for human resources development G Srinivas Rao said the pass percentage for the first year was 68.05 and for the second year it was 73.78.
You can check the results by visiting the official website.
On the official website, click on AP Inter 1st or 2nd Year Results 2016, and log in with your registration number and date of birth. Your result will be displayed on the screen.
This is the first time that both first and second year results were announced on the same day and they were declared before April 20.
In the first year, 72.09% girls passed the exam against 64.02% of boys. The pass percentage for girls in the second year was 76.43 while the same for boys was 71.02.
As many as 4,67,747 candidates (regular) wrote the first year exam and 3,18,300 passed. In the second year, 3,03,934 students out of 4,11,941, who appeared in the exam, passed.
Read more: UGC-NET December 2015 results declared
The candidates were given four grades depending on the percentage of their marks.
In the first year, 58% of the candidates scored A grade (75% or more marks) 25.85% B grade (60 to 75%) , 11.18% C grade (50 to 60%) and 4.73% D grade (35 to 50%).
The grade wise results for second year are; 1,74,649 students A grade, 84,407 B grade, 33,844 C grade and 13,014 D grade
Among 13 districts in the state, Krishna district stood first in the results for both first and second year with a pass percentage of 81. Visakhapatnam stood second with 72 and Nellore third with 71.
The board announced that advanced supplementary examination will be held on May 24 and the fee has to be paid by April 26. For recounting and re-verification of answer sheets, the last date for paying the fee is April 26.
The candidates have to pay Rs. 120 for recounting of each paper and Rs.720 re-verification.
The results are also available on the following websites:
http://results.andhraeducation.net/AP-Inter-Results.htm
http://Results.AndhraEducation.net
.