Bihar student appears for English honours exam, gets psychology certificate
There were allegedly discrepancies in mark sheets of 40% examinees.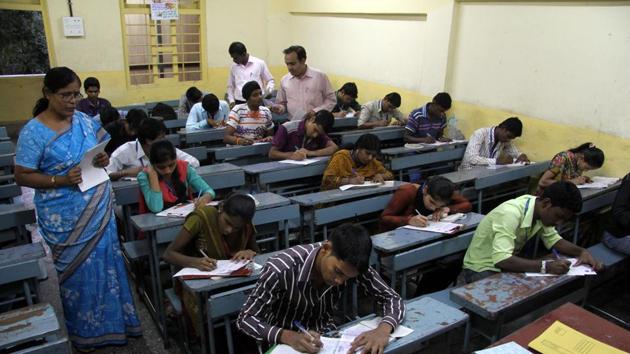 Updated on Dec 17, 2017 12:18 PM IST
Hindustan Times, Bettiah |
Sagar Suraj
Mohammad Tabrez has successfully cleared the BA part-1 examination. So says the marksheet of the examination, conducted by Bhim Rao Ambedkar Bihar University (BRABU), Muzaffarpur. Yet, he is livid. He can neither celebrate nor does he know what to do next.
For the student of Ram Lakhan Singh Yadav College, Bettiah in West Chamapran district, has been shown to have passed the examination with honours in psychology, a subject he never opted, exposing yet again the rot that has set in Bihar's education system.
"I wrote my papers for English honours, with geography and history as subsidiary subjects. But the result shows that I have passed the examination with honours in psychology. Not only this, I have been awarded pass marks even in psychology practicals," Tabrez said.
A resident of Bhatwalia village, Tabrez approached the examination wing of his college for correction in the marksheet. "But they told me that it was the mistake of the university and advised me to seek remedy from the BRABU headquarters at Muzaffarpur, 128 km away," he said.
"Even BRABU employees are not ready to admit their mistake and claim that I had filled the examination form erroneously. How can this be possible?" Tabrez said, showing his admit card to substantiate his claim.
"The admit card, number 104762, issued to me clearly confirms that I had offered English honours, geography and history as subjects," he said.
Tabrez said he was not the only victim of the BRABU's "bizarre marking system" and found many other students running around for correction in their marksheets.
"This is sheer mismanagement and there is nobody to help rectify the mistake," he added.
A non-teaching employee of Ram Lakhan Singh Yadav College said there were discrepancies in marksheets of 40% examinees. "A good number of them have been shown as absent in papers they had appeared," he said.
"Ramesh Paswan has been declared failed after showing him absent in a paper of history honours. Paswan has claimed that he had appeared in the examination. Another examinee, Manoj Srivastava, has been given marks in economics against history, which he had offered as a subsidiary paper," the college employee, who did not wished to be quoted, said.
Acting principal of the college, Imtyaz Shams, said the college was trying to get the corrected results from the university.
Last year, Ruby Rai and three other disgraced toppers of Bihar's Class 12 exams were arrested after a court in Patna issued an arrest warrant against them. The revelation that Rai, as the humanities topper, did not know what political science was, led to unearthing of a large examination racket involving the Bihar School Education Board (BSEB).
In the wake of such exposes, Bihar chief minister Nitish Kumar recently announced a number of measures to take the state's education sector to "dizzying heights."
Close Story
Personalise your news feed. Follow trending topics