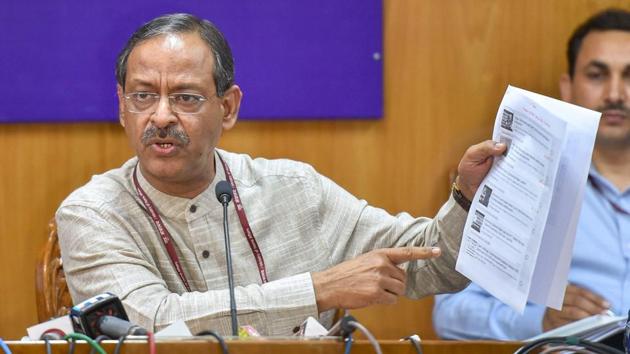 CBSE paper leak a wake-up call, will take action against the guilty: Education secretary Anil Swarup
HRD ministry secretary Anil Swarup says one of the positives is that we will get to know the shortcomings of the system and it will enable us to go in-depth to know what are the processes going wrong.
UPDATED ON APR 01, 2018 09:57 AM IST
As Secretary (school education), at the Human Resource Development ministry, Anil Swarup has been in the eye of the storm over the leaks of the Class 12 economics and the Class 10 math question papers. In a wide ranging interview, he spoke about why the Class 10 Math test was held despite enough indicators that the paper had leaked, the logic behind deciding to hold the retest for the math exam only in Delhi, Haryana and the National Capital Region, and that too only if it is considered necessary to do so, and security measures being put in place so that the episode is not repeated.
Why did the Central Board of Secondary Education take so long to react despite enough indicators that there had been a leak?
There were several leakages underway, on YouTube etc...; there were several copies (of papers) being circulated. So when everyone is crying wolf, to catch the wolf becomes difficult. Each leak and complaint has (been) and will be examined. In almost all the cases, except (Class 10) mathematics and (Class 12) economics, we have found that the so-called leaked paper did not conform to the actual paper. When messages about mathematics and economics came, obviously these two also had to be examined. One such message was received at 1am in the night. Who sees official emails at 1am in the night? She (CBSE chairperson Anita Karwal ) saw that email at 8.55am, which can be verified. After this, as in the other cases, she referred it to the controller to see whether it (the leak) conforms (to the actual paper), which took time. By that time, it was already 10 am and a decision had to be taken whether to hold the exam while the children were already in the hall. It would have created confusion and hence a decision was taken not to call it off. In hindsight, it was a right decision because in that paper examination will not be held in other parts of the country. Imagine a scenario had we taken a decision to call it off; then everyone would have had to take that examination.
Read | How a 16-year-old whistle-blower strove to get CBSE exam cancelled after paper leak
Why are retests for Class 10 being conducted only in Delhi and NCR?
We took the view that there is no substantial evidence to indicate the leak happened outside of Delhi and Haryana. A decision had to be taken based on the available information. Now, should we put a child to inconvenience was the question. Even for Delhi and Haryana, we agree the fact of leak is established, but whether it impacted the outcome or not is still being examined. There could be a possibility that we may not have an exam (for class 10). However, I cannot give a definitive answer. Now, someone will ask me why (will this happen, if at all, in) July, because people have their engagements, vacations, and that's the feedback we have got. I got many messages saying that we have made plans etc. We are going to study and analyse the answer sheets to find out if there is a trend (of unnaturally high scores) and this process will take some time. which is why 15 days have been sought.
What are the measures that are being taken to ensure such incidents are not repeated?
One of the positives is that we will get to know the shortcomings of the system and it will enable us to go in-depth to know what are the processes going wrong. Secondly, how can we use technology to plug these loopholes? Just to illustrate the course of thinking – we can consider sending an encrypted CD to schools and give the decrypted code on the day of the exam and then they print the paper locally. We are trying to work towards that. But this is just an example and there could be many other similar ways we could use. In the physical process, tracking leakage becomes difficult. But if anyone messes with the computer or digital information, it gets recorded and we can get it tracked. But there would be some logistic issues that need to be addressed in advance - for example the centre should be equipped to print out those question papers in the time that is available. We have to look at improving the whole process.
Read | Anonymous caller, letter and question paper on Twitter: How CBSE leak surfaced in 13 days
Why has no action been taken against the CBSE chairperson?
Without an enquiry, taking action demoralises everyone. No one shall be spared. We would like to assure everyone that strictest of actions will be taken against those that are found guilty. But to prematurely point a finger and say someone is responsible does not help .
What about taking action against those who are responsible?
There is a clamour for individuals. Yes, if someone is responsible, the person should be sacked and action should be taken against the person, once the enquiry is complete. But merely taking action against individuals doesn't really help. What really helps our system is when things got sorted out when we use technology to bring in transparency.
The issue of doing away with three sets of papers is being raised by many stating that it could have limited the scope of leakage. This was done away with last year.
This is wrong information that is being circulated. There were three sets previously: one for Delhi, rest of the country and one for foreign countries. How would that help control leakage? If I were to send three sets of papers to the centre and one was to be picked at the last minute that could help plug the leakage. Earlier, the Delhi paper, in terms of competence level, was lower than that in the rest of India. Is that right? It is incorrect to have different sets of papers for Delhi and the rest of the country and outside India. It is a single board and we should have one paper for everyone. But this is a wake-up call for everyone.
Is any helpline being set up by CBSE to help students ?
CBSE has set up a help centre to interact with the students. I am personally responding to many who are approaching me. I understand their angst. If I were in their position I would also feel bad. I can only say we are trying out best but I totally sympathize with the children. We will nail the persons who are responsible for creating this problem.
Close