Create school libraries with soul, don't merely 'collect' books
Published on Sep 26, 2017 11:19 AM IST
Even in a typical government school in a tribal area, an enthusiastic team of teachers and community volunteers have come up with innovative ideas that make children fall in love with books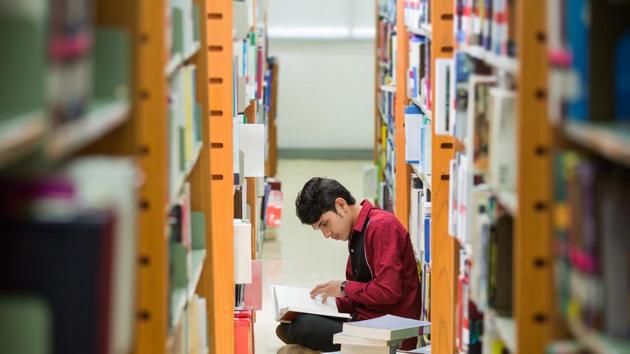 I recall my recent visit to a district public library in Jharkhand. I was excited to learn that the collector had reclaimed the public library building that had been occupied by paramilitary forces for years. The building was large, spacious, well ventilated. It had a number of shelves, full of books. However, the soul of the library was missing since there was neither a trained librarian nor any users. It was being managed by a clerk who was protecting the collection and the building without drawing and connecting with users. Unfortunately, this is not a stray story of a neglected public library, but representative of long and widespread neglect of libraries and librarians.
Consider another scenario in the same district in Jharkhand. This was a typical government school in a tribal heartland. It did not have separate library room, as space was a constraint. There were only two teachers in the primary school and no librarian. Teacher and community volunteers had made book holders using locally available gunny bags which were full of picture books in Hindi and Mundari (tribal language). Children had free access to books. The well-thumbed books made it evident that these were in regular use.
The children had also made library cards recording books borrowed for home reading. During the library period, the community volunteer, who had received special training on running a classroom library, did an effective read aloud, using a picture book. She read with voice modulation, moved around in the class to show pictures as she read, asked questions encouraging children to predict what would happen next, and got them to relate their own experiences to characters in the book, communicating in Mundari and Hindi. Children's interest and engagement with books was apparent. One knew, this could be the beginning of a life-long bond of children with reading and learning.
The Right to Education mandates every school to have a library. While majority of schools have library books, those are locked in cupboards. Only 26% to 40% schools have functional libraries. At the heart of a vibrant library is a professionally trained library teacher who understands books and is committed to children's learning.
Our collective resolve to invest in building a cadre of librarians who have knowledge, skills and vision for open access libraries for children would be the best way to get children to fall in love with books
India celebrates National Librarian Day on August 12 in the memory of Dr SR Ranganathan. Known as the 'Father of Library Science in India', he is remembered by library scientists for his seminal contribution through new classification system and cataloging, combining his expertise in mathematics and library science. As an educator, what inspires me is his vision of library and librarianship. He advocated that libraries should be dynamic, books should be used and not hoarded. For him users were most important, they were at the heart of the library.
The author is head, education and sports, Tata Trusts.