Eco-friendly moves by Delhi University colleges
Jun 02, 2016 06:28 PM IST
Irwin, Kalindi and Ramjas are exploring avenues to save energy, live healthy and recycle waste
From banning plastic bottles on campus, to recycling waste, installing solar heaters and promoting use of bicycles, Delhi University colleges are taking a number of eco-friendly initiatives to protect the environment.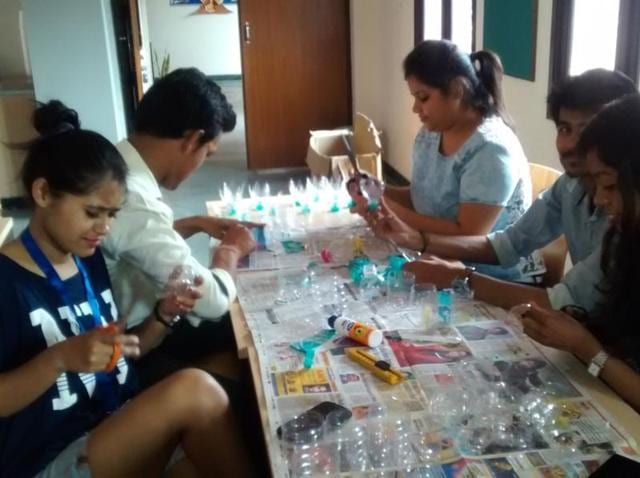 Saving electricity
Lady Irwin College has installed solar water heaters for its hostels (5,000 litres), laboratory (1,000 litres) and kitchen (1,000 litres) to minimise energy use. "We use warm water for cooking in the college kitchen too, to reduce fuel usage," says Sushma Goel associate professor, department of resource management and design application.
The college also does organic composting of garden waste, using specially made bags for leaf composting. Lady Irwin's Eco-club sensitises students towards waste management, reuse and recycle. Postgraduate students of resource management and design application also design products using waste materials such as plastic bottles, egg crates, paper, tyres, wood, etc.
Read more: DU placements: Data analysis, flight services tops chart
To be able to get ample daylight in classrooms, library and laboratories, the college has large windows and skylights. Solar street lights have been installed near hostels and the campus has LED floodlights, says Goel.
No plastic zone
Kalindi College had banned plastic bottles on campus. Earthen pots are now used for storing drinking water on campus. "We are the first college in Delhi University to have taken such a step. The idea serves more ­purposes than what meets the eye. Firstly, water from earthen pots is healthier compared to water stored in plastic containers. Secondly, plastic which is a non-biodegradable substance harms the environment. Thirdly, promoting the use of earthen pots will also help us promote pottery as a skill and enhance business opportunities for potters," says Anula Maurya, principal of the college.
Kalindi also plans to host potters on campus for making the pots. It will also allow students and teachers to purchase the pots for personal use.
Cycling all the way
Ramjas College has introduced a green cycle project to promote the use of bicycles within the campus and nearby areas.
"We have tied up with Delhi Cycles Private Limited (GreenRide Public Bicycle Sharing Service). We are the first college in Delhi University to do something like this. As a part of the project, Delhi Cycles will be providing cycles to us, free of cost. Two stands – On our campus and at the Metro – will be built. Students can swipe a smart card to access and drop off the cycles. Services will be available from 8 am to 8 pm, says Nalini Nigam, associate professor, department of botany in Ramjas.
From the past three years, the college has also been sending all its waste paper to Jagruti waste paper recycling services. This year, waste paper sent totalled 2,230 kg, Nigam says.