HRD ministry asked to push distance learning bill
May 05, 2016 06:20 PM IST
Dissatisfied with the inordinate delay in appointing a regulator for distance education, a parliamentary standing committee has asked human resource development ministry to expedite it
Dissatisfied with the inordinate delay in appointing a regulator for distance education, a parliamentary standing committee has asked human resource development ministry to expedite it .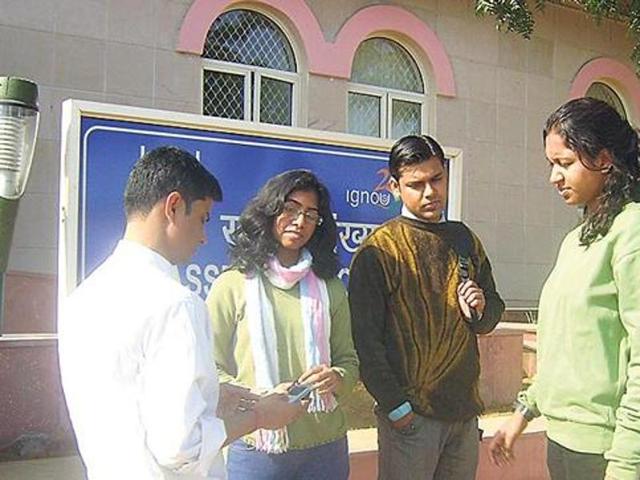 The promotion of a Punjab government employee has been held up by his department because his graduation degree, through open and distance learning (ODL) mode is invalid. The programme he had taken up had not been authorised by the University Grants Commission (UGC). There is now virtually no scope of growth in his career. Alarmed by the increasing number of colleges and universities offering unauthorised courses, jeopardising the careers of lakhs of students studying through ODL mode, a parliamentary standing committee on human resource development (HRD) has asked the HRD ministry to implement the Distance Education Council of India (DECI) Bill which advocates jail terms for authorities in such institutes.
Every year approximately 35 lakh to 40 lakh students take up ODL degree and post degree courses in India. Many educational institutions are bypassing rules framed by the University Grants Commission, the present regulator of such programmes. "Instead of taking action against the institutes, UGC is not validating degrees of students from the universities," says the state government staffer. "UGC too has refused to honour my degree. In Punjab, hundreds of institutes have affiliations from universities of other states and all of them are openly offering degrees." In April 2015, the parliamentary standing committee had asked MHRD to speed up the enactment of the DECI Bill. After almost a year, on March 16, in a report presented to the Rajya Sabha, the committee said the ODL education system, catering to a large section of the country, needed a regulatory body to oversee ODL education system. It asked for the DECI Bill to be brought before Parliament without losing further time.
The committee, chaired by Satyanarayan Jatiya, a senior leader from the ruling Bhartiya Janta Party, also reiterated its earlier recommendation to give the Distance Education Council (DEC) a statutory status to regulate distance learning. The present arrangement, replacing DEC with UGC was neither practicable nor legally tenable, it said.
The HRD ministry had abolished DEC, the regulator of open and distance learning under the Indira Gandhi National Open University (IGNOU), Act 1985, through an administrative order on December 29, 2012 and its mandate was given to UGC. This ad hoc arrangement, experts say, is not legally viable because an administrative order can't undo anything created by a law passed by Parliament.
Amidst the debate, the two issues which are hampering ODL students' careers are – territorial jurisdiction and illegal and unspecified degrees. UGC issued a circular in June 2013 to restrict a state/private university from offering courses beyond its state boundaries. Private universities, however, continue to bend the rules. Most of them offer courses not approved by DEC. "Many universities have been given subject-wise approval but they claim to have the approvals for all courses. Students pursuing invalid degrees suffer setbacks when these are not honoured by UGC," says senior UGC official.
Unspecified degrees are those courses whose nomenclatures are not approved by the UGC.
In Capital Delhi, too, hundreds of institutes affiliated to state/private universities of other states, are offering degree courses which are illegal, as defined by UGC's circular. Since the UGC is a mute spectator in this case, lakhs of students will miss out on good career opportunities, the UGC official adds.
Experts say that the DECI Bill, which is under consideration in the HRD ministry for the past three years should address these issues and be enacted as soon as possible.
"The UGC, as a regulator, has been oblivious to the lack of quality and efficiency in functioning of ODL institutions. I think the government should expedite enactment of draft DECI bill to protect the interests of the students," says MM Ansari, former member, UGC.