HRD ministry to consider scrapping 'mark moderation' policy with states, may lower DU cutoffs
Apr 14, 2017 09:24 AM IST
Sources say that moderation has led to an increase in the number of students with 95% aggregate, as a result of which a few Delhi University colleges had set 100% as the first cut-off for admissions
Is the government attempting to control soaring cut-offs for admissions to top institutes such as Delhi University? This seems likely if a meeting called by HRD ministry of all state educations secretaries and chairman of all the state boards on April 24 is any indication. On the agenda is a review of the 'moderation' policy to award students extra marks in exams for 'difficult' questions, said to be the reason behind inflated scores in Class 12 board exams - which in turn lead to high cut-offs.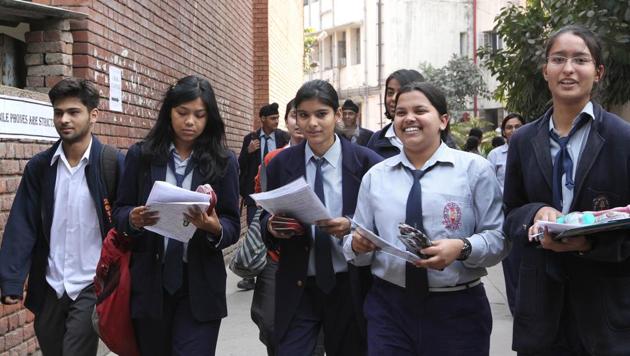 Keen to scrap this practice the Central Board of Secondary Education (CBSE) has taken up the matter with the HRD ministry, requesting that all states be taken on board.
Sources say that the policy of moderation had led to an increase in the number of students with 95% aggregate, as a result of which a few Delhi University colleges had set 100% as the first cut-off during admission to undergraduate programmes.
In the past CBSE and various other state boards have awarded up to 10% to 15% cent extra marks in 'difficult' subjects such as mathematics and physics, among others. However, these extra marks are subject to the ceiling of 95%. This means that scores of a student getting 80% to 85% can be increased, but someone getting 95% or above does not benefit from moderation.
The issue of granting grace marks will also be discussed at the meeting.
Every year, more than two crore students appear in Class 10 and approximately 1.5 crore in Class 12 exams conducted by over 40 education boards.
It has been learnt that the meeting will be chaired by the education secretary and discussions will be held on the moderation policy and other issues related to board examinations. "The meeting will discuss the corrective measures that can be taken and every state has to be on board for doing away with the policy. It has been going on for quite some time and is unjust for those who prepare hard and get 95 without moderation," said a senior official. Some of the other issues that will be discussed include uniform difficulty level of question papers across boards, use of technology and other mechanisms to address the issue of cheating in exams among others.
Last year, in a written reply to a question in the Lok Sabha, the minister of state for HRD Upendra Kushwaha had said that the moderation policy helped bring parity due to an element of subjectivity in evaluation. "As far as CBSE is concerned, it adopts moderation policy to bring uniformity in evaluation process, to bring parity due to element of subjectivity in evaluation, to level up mean achievements due to difference in difficulty level of different set of question papers and to maintain parity of pass percentage of candidates across years and to compensate the candidates for difficulties experienced in solving the question in specified time," he said.
He was a responding to a question on CBSE's policy regarding granting extra marks in Class 12 Board examinations. He had been asked if many state boards were granting extra marks in the name of standardisation and if CBSE did so too.
The minister said that the state boards follow their own evaluation system and the Centre has no role in the process.