Is compulsory attendance for college students a solution or a symptom?
Updating syllabuses and teaching methods, allowing students to choose from a wider range of subjects, would likely be more effective, educationists say.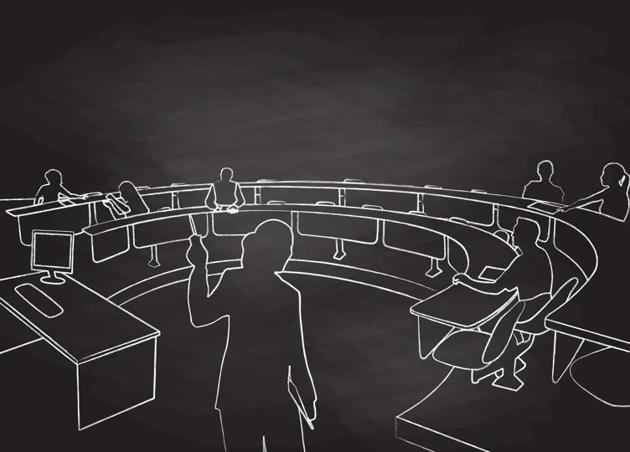 Published on May 02, 2018 08:16 PM IST
Hindustan Times |
Prakruti Maniar
Delhi's Jawaharlal Nehru University recently made 75% attendance mandatory for students of all undergraduate, postgraduate and research courses. Across the country, institutes of higher learning have felt compelled to enforce such rules, if not for research courses then at least for undergrad and postgrad ones.
Academicians argue that if syllabuses were more relevant and engaging, and teaching methods more current, the struggles with attendance would not be so severe.
"Classroom learning in the age of the internet has to go beyond books, for which the teacher must step up," says Joyanto Mukherjee, founder of education auditing company Tutored and Trained. "Forcing attendance is a clear sign that, for the most part, lecturers do not have faith in their teaching."
Empty benches in a classroom are also an indication that the syllabus and exams are still dependent on rote learning. "In such cases, a teacher is not bringing anything extra to the course, and the student has no motivation to attend," says Anamika Shrivastava, assistant professor at Jindal Global Law School.
Power to choose
The question to ask is not, 'How can we force students to attend?' but rather, "Why aren't they coming to class?', they argue.
Part of the answer lies in the templated approach to higher study, where a student is forced to pick a stream and then allowed very little leeway when it comes to subjects.
"I wanted to study a mix of engineering, management and law, and had to do separate courses over a span of seven years to make that happen," says Satish Modh, director of Vivekanand Education Society's Institute of Management Studies and Research, Mumbai. "In such a system, a student ends up learning a lot of unnecessary subjects and that is when interest begins to flag."
Trying to control discipline by way of attendance is refusing to recognise students at the postgraduate level as adults, adds Abhijit Gupta, associate professor of English at Jadavpur University. "They should learn that their actions will have consequences. That if they do not attend, it is their loss."
Classrooms and teacher-student equations help learning to happen in a focused manner. "There should be a certain discipline to a student's time at college," says Modh. "They should spend time on campus, meet fellow students from diverse backgrounds, interact and develop soft skills like listening, debating, raising questions. All that comes from time spent in a classroom."
The ideal solution would be to see the classroom experience improve not just at the top institutes, but across the board, the academicians say. "A policy change should introduce 50% attendance as mandatory, below which marks would be cut," says Mukherjee. Meanwhile, individual teachers should work towards making classes more fun.
Long-term gain
N Shivakumar, business head at human resource consultancy firm Team Lease believes that workplaces have so far mirrored the imbalance of these higher education systems, with their focus on passive presence rather than active interest. "You just punch in and punch out at a certain hour," he says, "but this is changing as the gig economy grows in India."
There is a growing trend of freelancing, working part-time, on a project-by-project basis and working from home and this takes focus, dedication and time management — none of which is being inculcated in a higher-education system focused on rote learning and mere presence, Shivakumar adds. There must be more of a focus on collaboration, innovation and practical learning.
"When I was teaching Literature and Censorship last year, the class got to together and created a Wikipedia page on the subject, instead of just reading notes and opinions available online," says Gupta of Jadavpur. Universities are still doing very little to accommodate this kind of 21st-century approach in a system that was designed hundreds of years ago.
"In both quantity and quality, our universities are not equipped to support the influx of students in higher education in the next decade. They have to start making changes now, to be prepared," says Arun Nigavekar, former chairman of the University Grants Commission.
Close Story