Kota's success in NEET fuels boom in coaching institute business
Hindustan Times,Kota |
Aabshar H Quazi
Apr 05, 2017 07:26 PM IST
Fuelled by the success of their students in the National Eligibility-cum-Entrance Test (NEET-UG) and other medical entrance examinations over the years, coaching institutes in Kota are set to harness a boom.
The coaching capital for higher education in India with an annual turnover of Rs 1500 crore, is witnessing a boom in the trade following phenomenal success of students enrolled in these institutes in the National Eligibility-cum-Entrance Test (NEET-UG) and other medical entrance examinations over the years.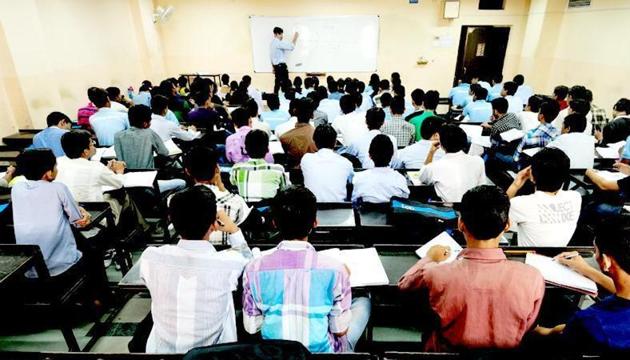 The NEET-UG is the single entrance medical examination in country through which admission on all medical college seats will now be held and all States will have to participate in it.
Out of a total of 1.25 lakh aspirants for medical and engineering entrance examinations from different coaching institutes of Kota last year (2016), around 55000 to 60000 students were NEET-UG aspirants.
Most aspirants were from Uttar Pradesh, Bihar, Chattisgarh, Madhya Pradesh and other parts of northern India. But a perceived need for coaching after NEET been made mandatory in the country, is expected to send many aspirants from those States where admissions for medical seats earlier were either given through their State PMTs or class 12th score.
According to Parijat Sharma, academic counsellor of the medical division at a coaching institute in Kota, states like States like Rajasthan, Himachal Pradesh, Madhya Pradesh, Manipur, Haryana, Odisha and others had participated in NEET-UG 2016 but several states like Telangana, Andhra Pradesh, Maharashtra, Gujrat, Kerala, Karnatka, Tripura, West Bengal, Jammu and Kashmir, Punjab and few others did not. They held their own State PMT's while Tamil Nadu gave admission on medical seats through class 12th score.
"But now when it is mandatory for all States to participate in NEET, the number of NEET aspirants would arrive to Kota more for admissions this year," he said.
Faculty member at Career Point Institute of Kota, Dr Mohammad Saleem said that "NEET replacing all other state level Pre-Medical Examinations as the single medical entrance examination coupled with the phenomenal success of coaching city's institutes in NEET and IIT-JEE is fuelling growth in admissions of aspirants in Kota this year."
Earlier, admission for only 15% seats were given through All India Pre-Medical Test (AIPMT), before NEET came into existence, while admission on 85% seats were given through State PMTs or class 12th marks in the country but after arrival of NEET-UG admissions for 100% medical seats will be given through NEET-UG score, he said.
Naveen Maheshwari, director of Allen Career Institute, whose 7 students finished in the top 10 of countrywide rankings including the top three, says, "Aspirants of those states which earlier used to conduct their separate State Pre-Medical tests or would give admission on class 12th marks are now expected to rush to Kota as now they will also have to sit in NEET for which they will need coaching and Kota has the best expertise in country for medical coaching".
"Although admission process is in initial stages but admissions of NEET aspirants have doubled in our institute in March month than the same month last year (2016) and the trend is likely to continue in coming months of admission season", he said.
He claimed of around 25%-to-30% growth in NEET admissions in Kota this year.
Chairman and managing director of Career Point Institute of Kota, Pramod Maheshwari is also hopeful of increase in NEET aspirants in Kota after 23 of the institute's students finished in the top 500 AIR ranks in NEET last year.
"Certainly NEET aspirants from those states would seek admission in Kota who were earlier not coming to Kota for coaching due to lack of need of coaching following admission on medical college seats on the basis of class 12th marks or presence of their State PMT examinations in their States", said Maheshwari.
The number of aspirants of NEET-UG 2017 in the country is over 11.50 lakh which is near to the figure of around 12 lakh aspirants of JEE Mains 2017.
Rough estimate indicates that nearly 40000 NEET aspirants from Kota were selected for NEET 2016 counseling last year for over 50000 medical seats in the country.
Kota has also grabbed the All India Ranks (AIR) top spots in IIT-JEE in the last two years consecutively.