'Many flaws': CBSE scraps open-book tests for Class 9 and Class 11
Updated on Feb 03, 2017 01:23 AM IST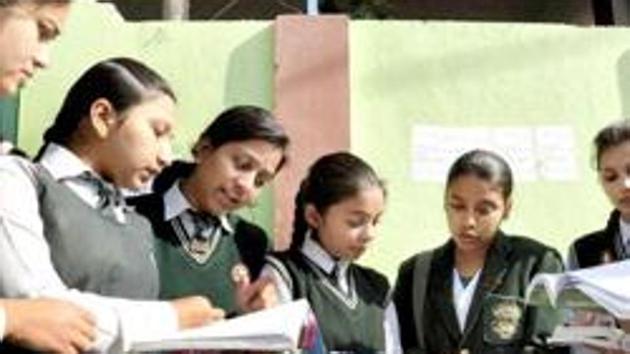 Students can no longer carry their textbooks to examination halls. Two years after it was introduced, the Central Board of Secondary Education (CBSE) has decided to discontinue Open Text Based Assessment (OTBA) for class 9 and 11 from this academic year.
According to sources, the board had received negative feedback from the schools about the OTBA system.
OTBA was introduced by CBSE in Class 9 for Hindi, English, Mathematics, Science and Social Science and final examination of Class 11 in few subjects such as Economics, Biology and Geography from March, 2014.
The CBSE now says that the objectives of the OTBA were hardly met and "based on the feedback of stakeholders, the board subsequent to the resolution passed in the Governing Body Meeting, has decided to withdraw the OTBA from the Scheme of Studies in Classes IX and XI from the Session 2017-18".
On Tuesday the board had also issued a notification to make Class 10 board compulsory from 2017-18. There ARE 18,000 schools affiliated to CBSE in the country.
Under the open text based assessment students were provided text material four months in advance and they were allowed to carry the case studies during the examination. "Schools had to prepare question paper out of the material provided by the CBSE and students were asked questions based on that," said a senior official. Under the system students were allowed to refer to their notes or textbooks while answering questions. The focus was not on rote-learning, but on applying that information critically.
Read | CBSE students will earn grades in Class 10 by doing yoga, showing patriotism
"The system had many flaws as rather than developing the critical abilities of the student, the system was being used by some schools to tell the questions in advance to the students and they used to study just that. This only helped them score well. After consulting everyone a decision to discontinue it has been taken," said a source.
In 2015, the HRD ministry had urged state and central school boards to consider introducing open-book tests in secondary and senior secondary-level examinations. The suggestion was made by the School Education Secretary at a meeting of 42 education boards held on October 28 in 2015.
Personalise your news feed. Follow trending topics