Meet the students who created an app for PMO
The app gives citizens an overview of the Prime Minister's major initiatives, news and social media updates in 10 Indian languages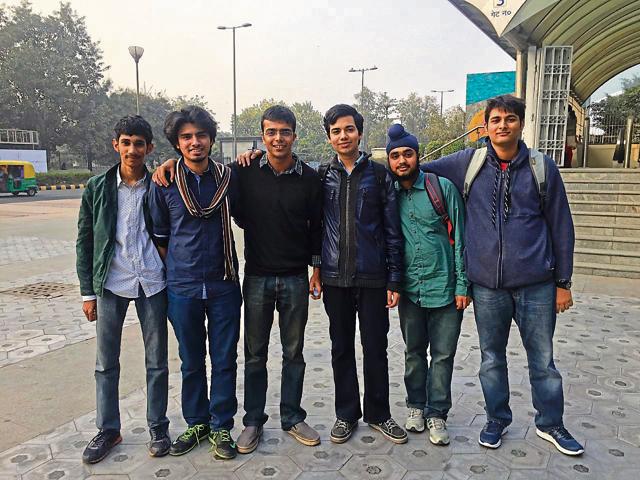 Published on Aug 10, 2016 06:51 PM IST
Their passion for designing something unique and interest in technology brought a group of students from colleges across the country together to create an app for the Prime Minister's Office (PMO). It all started when the students, part of Team Sanskrit, participated in a contest by Google and were selected as the best from more than 10,000 entries with more than 45,000 ideas.
Together with MyGov, the citizen engagement platform of the Government of India, Google invited Indian citizens to share their ideas on what features an app of the PMO should include. This app gives citizens access to critical information about flagship programmes. In addition, the app provides an overview of the Prime Minister's major initiatives, news and social media updates, and enables people to make a donation to the Prime Minister's National Relief Fund in 10 Indian languages.
The winning team, comprising Raghav Sarin, Gyan Lakhwani, Prajwal Seth, Preet S Khalsa, Naman Dwivedi and Pranav Sethi, will visit the Google headquarters in California, where they will get to interact with Google's engineering and Android teams.
Raghav Sarin, team leader and designer, says, "The contest was a unique initiative by Google and the Government of India to make a PMO app which is truly for the people and by the people. It involved taking inputs from citizens of the country for the features of the app and then another phase where citizens themselves would develop it. We focused on building a high quality and user-friendly app. We ensured that everything from the design to the development was at the highest level possible and also made sure that the app would be something the PMO and this nation would be proud of."
The project was aimed at bringing the people closer to the Prime Minister through something as simple as a mobile app. "It gives the people updates about the functioning of the office and also helps educate them about it," says Sarin, a 19-year-old economics student at Sri Venkateswara College, Delhi University.
The team has to maintain the app for another year and aims to improve it in due course. Users get updates from the PMO's news feed, social media feed, image gallery and can also listen to Mann Ki Baat.
Gyan Lakhwani, another engineering student and team member, says, "In the first stage, the contest crowdsourced ideas from the public about the features they would like to see in the PMO app. Thousands of entries were received, and the best ideas were picked. An open competition was held in the second phase to design app wireframes with the given feature set. Finally the third phase had the top five teams working on building the app with mentors from Google. We focused on designing an intuitive and frictionless interface that followed the design patterns set by Google in their material design guidelines. This, combined with our well-optimised Android and backend code, resulted in a fast app with a great user experience. We also kept in mind accessibility guidelines, and provided the app in 10 different languages, with options to increase/decrease the font size of news articles, the ability to hear news read out, and a high contrast theme in the settings. I feel this is what gave us an edge over the other participants in the PMO app development contest."
All team members had a common interest in design. As Naman Dwivedi, a student of Delhi Technological University, says, "We heard about the contest which tested our design skills. We submitted the design blueprint of the app to MyGov and were selected. I am currently also working on an app to monitor the payment process in MNREGA for Harvard University's Center for International Development."
Close Story
Personalise your news feed. Follow trending topics