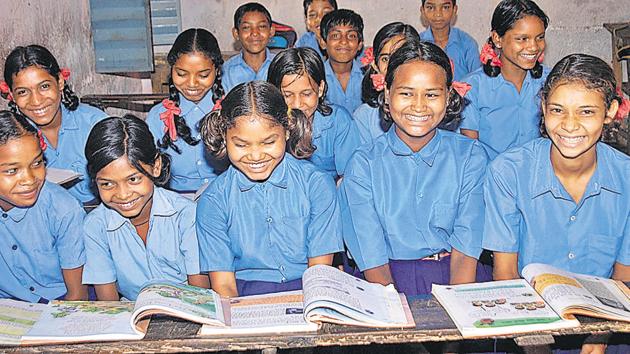 Percentage of 'out-of-school' girls in MP jumps to 8.5: ASER 2016
Madhya Pradesh is among the top three states in the country where the percentage of out-of-school girls is the highest, according to an education status report for 2016.
UPDATED ON JAN 21, 2017 07:23 PM IST
Despite offering freebies like books, bicycle and uniforms along with scholarships among others to enhance enrollment, Madhya Pradesh is among the top three states in the country where the percentage of out-of-school girls is the highest, according to an education status report for 2016.
As per the Annual Status of Education Report (ASER) 2016, in some states, the proportion of girls (age group 11-14) 'out-of-school' remains greater than 8%. These states are Uttar Pradesh (9.9%) and Rajasthan (9.7%). Madhya Pradesh joined them at 8.5%.
This report was released recently in New Delhi by Pratham Education Foundation. "The proportion of 'out-of-school' girls (not dropouts but who never went to school) in Madhya Pradesh was at 6.2% during 2014. This has now increased to 8.5%," Foundation's MP Chief Sajjan Singh Shekhawat said.
There are about 1.22 lakh schools including 83,962 of primary level, 30,449 middle, 3,849 higher secondary and 4,764 of high schools in Madhya Pradesh.
This status report has also revealed the condition of poor quality of education and its infrastructure in state.
As far as rural areas of the state are concerned, this education status report found that 2.9% girls of 7-10 years of age group were not enrolled in schools. Similarly, 29% girls in the age group of 15-16 years were out of schools during last year.
It was pointed out that 2.9% of the students of class eight in state failed to even read letters while 13.5% of them were able to read standard-one level text. Besides, 64.3% students of class eight could read letters meant for class-II but not above.
As many as 6.7% of class-five and 1.6% students of class-eight of the state have even failed to recognise the digit - one to nine. Similarly, 8.1% students of class-eight even fail to read English capital letters. This percentage is 18.4 for class-five students.
The report stated that 80.2% student of government schools studying in classes one to five were not attending coaching classes in year 2010. Now, more students of these classes are attending coaching as this percentage has now reduced to 64.6%.
There were no toilets in 20% of the schools in the state in 2010. This percentage is reduced to 5.6% in 2016, the report stated.
The status report also stated that 35.9% toilets in schools were not useable. Moreover, 23.4% schools in the state are still without a separate toilet for girls while 11% of toilets were found locked. In 19.7% schools, the toilets for girls were not useable.
At a time when state government is focusing on IT education, the report found that there was no computer for students in 97.5% schools in rural areas.
Minister of State for School Education in MP Deepak Joshi, however, said he would look into the report.
"We have made efforts to enroll girls in government schools. We are running the 'School Chalen Abhiyan' to enroll all the children for schools," Joshi told PTI.
He also said the state government has constructed 50,000 toilets in schools and is focusing on infrastructure development.
"I have no qualms in admitting that there are problems of water in toilets at some schools. The state government has constructed separate toilets for girls in entire state," he claimed adding that the Panchayats were also told to clean the toilets at least once in a week to ensure sanitation.
This Pratham Education Foundation report also revealed that the fraction of 'out-of-school' children (age 6-14) has increased between 2014 and 2016.
These include MP (from 3.4% to 4.4%), Chhattisgarh (from 2% to 2.8%), and Uttar Pradesh (from 4.9% to 5.3%), the report said.
However, there is some good news for Madhya Pradesh, which is among the nine states where the level of English reading in private schools has improved.
"In nine states, the level of English reading of private schools has also improved. These are Himachal Pradesh, Punjab, Assam, Jharkhand, Chhattisgarh, Madhya Pradesh, Tamil Nadu, Andhra Pradesh and Telangana," the report pointed out.
On the other hand, the attendance level of students in MP has been on lower side at 50 to 60% along with some other states including UP, Bihar, Manipur and West Bengal.
"As in previous years, student attendance varies considerably across the country. States like Himachal Pradesh, Punjab, Uttarakhand, Haryana, Nagaland, Mizoram, Gujarat, Maharashtra, Karnataka, Andhra Pradesh, Kerala and Tamil Nadu have attendance levels that are above 80%," the report added.
Foundation's General Manager Ranajit Bhattacharya said that this survey was completed in a period of 100-days and with help of about 150-master trainers, who further trained other partners at district level.
"Our sample size is bigger than the NSSO. We have local partners in every district. The process of this survey is started from August every year," he added.
Bhattacharya said the Foundation has been conducting this survey every year since 2005, except 2015.
Close