Reservations for female students in IITs could soon be a reality
Jan 16, 2017 12:59 AM IST
There was a 2% dip in the number of girls who cleared JEE-Advanced in 2016 as compared to 2015.
Reservation for female students at IITs could soon be real.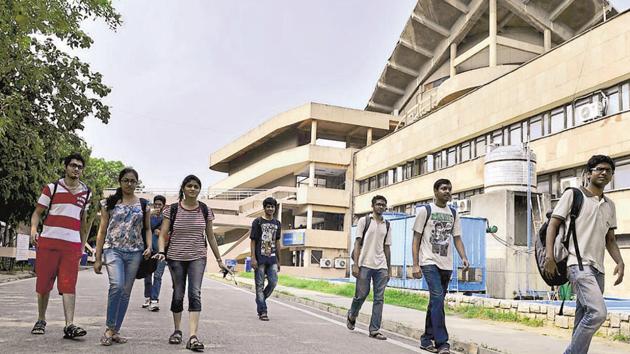 A committee formed to increase the enrolment of girl students to the premier Indian Institutes of Technology (IITs) has recommended reservation for female students to rectify the problem.
Sources said that the committee has suggested creating up to 20% supernumerary seats for female students out of the total number of seats. However, the reservation will be in effect for a period of eight years or till the time the enrolment reaches the 20% mark.
"The 20% supernumerary seats will be filled by female candidates who have qualified JEE-Advanced. Also, they should be in the top 20 percentile in their respective board exams," said a source.
The recommendation of the committee will be taken up in the meeting of the joint admission board (JAB) for a final decision, which will decide whether the reservation will come in effect from this year or from 2018. However, the task of deciding on the number of seats will rest with individual IITs depending on the facilities available and the need.
It is learnt that each IIT would be able to choose up to 20% to increase the participation of girls in the institutes. The committee has also made certain other recommendations at school level, which will have a long-term effect. Concerned by the slump in number of girl students entering IITs, the JAB has set up a committee to explore ways to increase their enrolment.
Read | IITs to admit non residential students; IIT Delhi to start it this year
A sub-committee under the chairmanship of professor Timothy Gonsalves was formed to find ways to rectify the situation in the institutes. It was learnt that there has been a 2% dip in the number of girls who cleared JEE-Advanced in 2016 as compared to 2015.
While over 1,000 cracked the examination (roughly 10% of the total 10,000 seats) in 2015, only 840 female students (coming up to 8%) made it to the institutes in 2016-17. As many as 10,500 students landed B.Tech seats at 23 IITs across the country this time.
"The number of seats for male candidates will not be affected and this will help IITs achieve the 1 lakh target by 2020. Also, only candidates who have already qualified in JEE-Advanced will be considered," said a source.