Why most Indians want to send children abroad for PG studies
Jul 28, 2015 07:16 PM IST
A recent report finds that 88% of Indian parents are keen on sending their children abroad for postgraduate studies. The reasons include niche courses like mountaineering and food engineering, hands-on training and global exposure.
Reema Sachdev, a 55-year-old homemaker, is a single parent whose income depends on interest on loans that her deceased husband had given out. Through the years, she has tried to keep her expenses to a minimum to save money for her daughter to study abroad. Sneha, 23, who graduated in computer engineering from Thadomal Shahani Engineering College in Bandra last year, will start classes at the George Washington University in the US in August.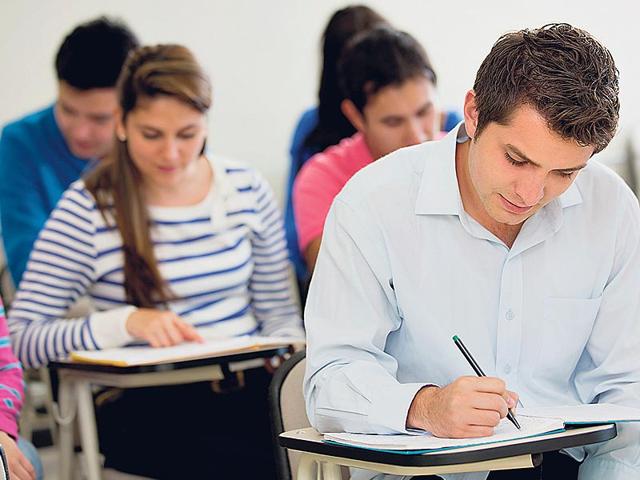 "I managed to save Rs 50 lakh to fund her postgraduate studies," says Sachdev. "I believe the US has a practical approach to education, and the syllabus is relevant."
According to a recent HSBC report, 88% of Indian parents who are keen to send their children for postgraduate studies abroad — a proportion that is the highest in the world, ahead of Turkey (83%), Malaysia and China (82% each). The survey represents 5,550 parents in 16 countries and territories, with a minimum of 300 parents from each country. It was conducted online by Ipsos MORI, a market research company, in March and April.
According to the report, the US is the most preferred education destination, especially for postgraduate courses, and information technology is the most preferred sector among Indians.
"We have seen a dramatic rise in Indian students going to the US for postgraduate courses," says Renuka Raja Rao, country head of education advisory at United States-India Educational Foundation. "It is good value for money, since students can extend their post-study visa, and are guaranteed a stipulated minimum pay for any kind of job."
"Many parents recognise that it is more challenging than ever to compete for jobs, and are willing to pay for better opportunities," said S Ramakrishnan, head of retail banking and wealth management, HSBC India.
Nearly 93% of Indian parents who are open to the idea of an international university education would consider paying more for it than they would to educate their children in India, states the report. "I took a bank loan of Rs 40 lakh to fund my son's master's education in the US," says Prakash Gopinath, father of 21-year-old Jayesh, who is currently pursuing a master's in computer science at the University of Texas, Arlington.
Niche courses, better job prospects, global exposure and practical training are some reasons Indian parents are keen to have their children study abroad.
BETTER EXPOSURE
Study abroad counsellor Pratibha Jain says that universities abroad give more weightage to practical subjects than theoretical ones.
"Parents today also appreciate that students need to be able to interact with people from different cultural backgrounds," says Natasha Chopra, director of The Chopras, a consultancy for overseas education. "Global exposure definitely adds to development."
Unlike in India, students can earn credits through activities that go beyond their course syllabus.
"Graduates of reputable foreign universities are likely to earn better salary packages," says Hemang Laheru, director of study abroad consultancy Smartmove2 studyabroad. "Recruiters recognise that you have received more gruelling, in-depth training."
NICHE COURSE OPTIONS
Institutes abroad also offer hyper-specialised courses that open up a variety of employment and entrepreneurial options for students.
Rishab Verma, 24, for instance, always wanted to set up a pâtisserie. In 2012, he studied French pâtisserie at Le Cordon Bleu, London. "I wanted my son to learn from expert culinary artists," says Shankar Verma, his father. "Indian institutes do not offer specific global culinary education. In London, the course taught him entrepreneurship skills too." Rishab launched a pastry café called Caramel Carousel in Bandra last month.
Similarly, twins Tashi and Nungshi Malik, 23, are pursing diplomas in sport and exercise science at the Southern Institute of Technology, New Zealand. The twins have climbed seven summits, including Mount Everest. "New Zealand is an ideal study destination for this course, with options for mountaineering," says Nungshi. "Indian colleges do not offer such specialised courses."
HIGH CUT-OFFS
The competition for seats at Indian colleges is only getting more cut-throat, with cut-offs breaching even 100%. "Even with excellent marks, students don't get admitted to top colleges, and many end up going abroad," says Karan Gupta, education consultant.
For instance, Sanika Mishra, 18, did not get into a top arts degree course, in spite of a fairly good score of 89%. She is now planning to apply for postgraduate studies to the UK, to strengthen her job prospects.
FALLING STANDARDS OF EDUCATION IN INDIA
In the 2015 Quacquarelli Symonds university rankings for BRICS countries released this month, the University of Mumbai (MU) jumped nine spots since last year to rank 58. However, its academic reputation fell to 62 points from 69. Globally, MU was at rank 600, IIT-Bombay at 222 and IIT-Delhi at 235.
"Indian universities fare badly because they score low on research productivity, quality output, and overall performance to match global standards," says Karthick Sridhar, vice-chairman of Indian Centre for Academic Rankings & Excellence (ICARE).
At overcrowded MU, experts blame a growing student population. "We do not have the funds to recruit faculty, so it is difficult to start specialised courses," says MU registrar MA Khan. "We even have to shift faculty members between departments and train them in existing courses. We also do not have funds for research."
As for the IITs, they have lowered their entrance exam cut-off from 35% to 24.5% for general category and have introduced a new category where students from weaker sections can enter the institutes with marks as low as 6.1%.
READY FOR TAKE-OFF
* 88% of Indian parents want to send their children overseas for postgraduate studies
* 93% of parents are willing to spend more on overseas education
* Information technology remains the top course preference for Indians
* Only 14% of Indian parents who want to send children abroad want them to make a career either in medicine or engineering