Gujarat polls: BJP intensifies campaigning for 2nd phase
Published on Nov 23, 2022 09:25 AM IST
BJP's star campaigners including JP Nadda, the party chief, Union home minister Amit Shah, Maharashtra deputy chief minister Devendra Fadnavis, and Assam chief minister Himanta Biswa Sarma were among those who hit the campaign trail on Tuesday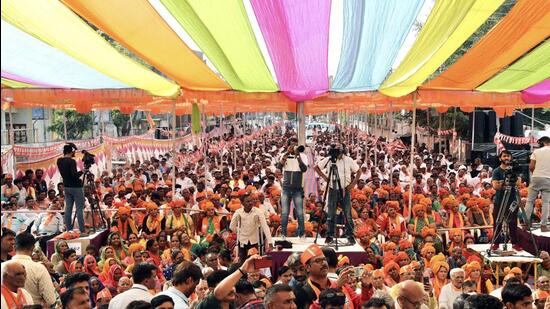 Melvyn Thomas and Amit Cowper
The ruling Bharatiya Janata Party (BJP) on Tuesday held rallies across 93 constituencies in north and central Gujarat as part of its second phase of campaigning in areas where voting will take place in the second phase of assembly elections on December 5. The party's campaign earlier focussed on 83 seats in south Gujarat and Saurashtra, which will go to the polls on December 1
BJP's star campaigners including JP Nadda, the party chief, Union home minister Amit Shah, Maharashtra deputy chief minister Devendra Fadnavis, and Assam chief minister Himanta Biswa Sarma were among those who hit the campaign trail on Tuesday.
Shah campaigned for BJP candidate Praveenbhai Mali in Deesa as he continued his attack on the Congress. "Earlier any Alia, Maliya or Jamalia used to cross our borders and behead our soldiers and [former Prime Minister] Manmohan Singh kept silent. It was all to placate a particular community. Even after the air strikes [in retaliation to the 2019 attack on a paramilitary convoy in Kashmir's Pulwama], Rahul [Gandhi] and [Delhi chief minister Arvind] Kejriwal sought proof of air strikes. Now, who will tell them that there can be no such proofs of such strikes... You just have to see the Pakistani TV to see how devastated they were."
Shah said the BJP government carried out the restoration and renovation of the Hindu religious places. "The Congress, during its rule, could also have done the same but it did not as it did not want to hurt a particular community."
At a rally in Khambhat, Shah spoke about the evacuation of Indian students from war-torn Ukraine. "[Prime Minister] Narendra Modi called the Ukrainian Prime Minister and the Russian president and said that 35000 students are there; halt your war for three days. So for three days, the tanks fell silent, enabling the safe evacuation of our students."
Shah said when Modi came to power in 2014, India was the 11th biggest economy in the world. "[The position was] maintained since the time of Atal Bihari Vajpayee." He added India became the world's fifth largest economy under eight years of Moid's rule.
In Shehra, Nadda said the BJP and Modi care for the Other Backward Classes (OBCs) and tribals in Gujarat. "For the OBCs and tribal people, Congress's is not sincere." He added a tribal woman was elected as India's president under the BJP's rule.
At a rally in Bayad, Fadnavis slammed the Congress and added Mahatma Gandhi wanted to dissolve it as a political party. He blamed the Congress for making the poor poorer and communal tensions. "Gujaratis are astute. They wiped out the Congress in Gujarat 27 years ago..."
Fadnavis praised Modi's Gujarat Model and said the BJP will smash all of its victory records in Gujarat under the Prime Minister's leadership. "India is changing under Modi's leadership."
Congress leader Manish Doshi said BJP leaders do not know history. "The history of Congress is the history of India's freedom struggle. They should read history to see how from the first Prime Minister Jawaharlal Nehru...[Congress leaders] worked hard for the development of the country and rebuilding the nation."